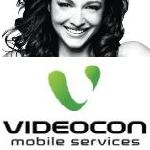 Videocon Mobile Services introduces a new recharge option which offers its Mumbai customers unlimited STD at local rates. With the new launch, users will be able to make both STD and Local calls at only 25paise per minute. Videocon's offering is an extension of its UNLIMITED campaign. This voucher is priced at Rs.17 and comes with a 30 days validity.
Speaking about the launch of this recharge voucher, Mr. Suneel Bandhu, COO – Mumbai, Videocon Mobile Services said, "A cosmopolitan city, Mumbai is home to a large number of people who come from different parts of the country. An intensive research carried out by us in this segment of prepaid mobile users revealed an urgent requirement of a STD calling pack that allows people to communicate economically with their close relatives. The new plan offers greater value to all, whether it is the college going student or a young professional."
All calls at 25 Paise sounds too good to be true. Its really a tempting offer specially for the ones who make lots of STD calls. If you are not a Videocon customer and planning to become one, then beware, please confirm with someone whom you know about the Videocon Network related queries in your area. I used Videocon for quite some time but then was fed up with the bad network, though the plans are cheap but for me network availablity with good voice quality is also important. Let us know whats your take on Videocon's new offering.