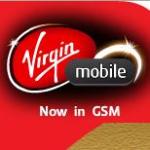 Virgin Mobile GSM,the youth brand of Tata Teleservices is offering free local and national sms to subscribers on their minute plan without any special pack.This offer is only available to customers on "Per Minute Plan" paying Rs.1.5 as their daily rental.Customers on "Per Second" plan can recharge with Rs.13 (which also offers a talktime of Rs.10) to shift to "Per Minute" plan.
Following are the details of this offer:
Virgin to Virgin (CDMA & GSM) unlimited Local and National SMS per day subject to fair usage policy of 1000 sms per day.

100 local SMS per day to any other network.
Subscriber will be charged 50 paise/sms after the above quota of free sms's is exhausted.

Initially subscribers on Per Minute plan used to pay a hefty daily rental of Rs.1.5 for making local outgoing calls at 40 paise/min,STD at 50 paise/min and local/STD virgin calls at 20 paise/min with SMS rates at 50 paise. Giving free sms's on per minute plan is a smart move by Virgin as this offer might stop people from migrating to "Per Second" plan.