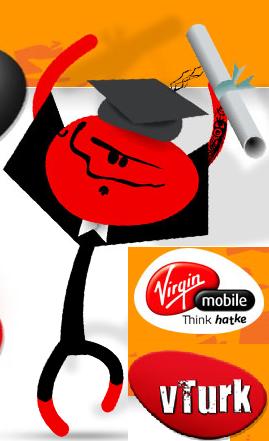 Virgin Mobile has introduced vTurk for college students. Virgin Mobile by introducing this campaign want to get and idea of what is the motivations
behind the purchase of a mobile phone, Youth attitudes, opinions and trends, Virgin Mobile customer satisfaction and recommendations about youth-focused product/tariff packages and any other relevant areas.For knowing all this Virgin Mobile needs college students to help it find answers to the above questions. Virgin Mobile will arm you with an array of cool merchandise and a couple of questionnaires. Over a period of 3 months, you will have to get filled those questionnaires.You need to gather infromation about :

– Post-purchase behaviour of 90 self-acquired Virgin Mobile users on campus
– Attitudes and preferences of at least 350 non-Virgin Mobile cell-phone users on campus.
Sound Pretty tough haannn….But do not worry you gonna be rewarded for this.
If you become a vTurk you will be rewarded with
– Virgin Mobile handsets + connections
– Personalized visiting cards
– Yo-yo pack loaded with unlimited talking amongst friends (for a month).
To become a vTurk click here to register
We Say : Virgin Mobile has made a pretty good move to target Indian youth. Those who will be selected as vTurk will surely gonna enjoy this. But beware – do not ingnore your studies while doing  all this. One more thing – Lazy bones stay away from it!!!
Do post your comment about what you think about this initiative by Virgin Mobile.