Virgin Mobile offers free access to social networking sites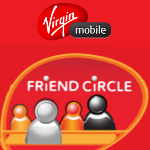 Virgin Mobile has announced that it will offer free access to top social networking sites available on its flagship value added service, Friend Circle on the occasion of Independence Day to all Virgin Mobile users. This offer will continue till 30th September. Friend Circle is an integrated social networking service which includedes Facebook, Orkut and MySpace in one place. This service allows users to stay in touch with friends across all three social networks at one time through a single log-in.
Friend Circle service is available to all Virgin Mobile GSM users across 16 circles – Karnataka, Andhra Pradesh, Tamil Nadu & Chennai, Kerala, Orissa, Mumbai & Maharashtra, Kolkata & West Bengal, Haryana, Bihar, MP&CG, Punjab, UP (E) and UP (W) circles.
Commenting on this initiative, M.A. Madhusudan, Chief Executive Officer, Virgin Mobile India said "At Virgin Mobile we always try innovative ways to connect with youth and Independence Day is all about celebrating the spirit of FREEDOM, we are letting friends connect for free. Freedom to access the top social networking sites on the occasion of Independence Day is yet another of our youth centric initiative to help the youth connect better."