Two days before, we saw a poster teased by Vivo showing off the split-screen multi-tasking feature of the Vivo X6. Vivo has been teasing different features of the X6 recently, the company has now shared one more poster teasing the dual charging capabilities of the Vivo X6 phablet.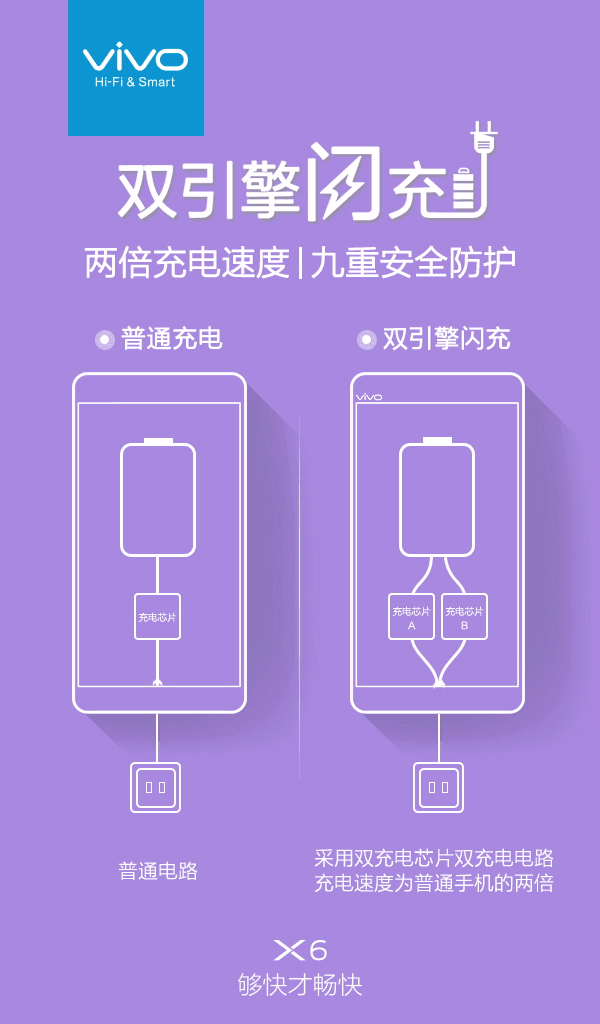 Vivo has shown off this dual charging capabilities of the X6 by sharing a GIF image which shows how this phablet is charged faster as compared to other devices. It shows that the battery in the Vivo X6 is charged faster than that of other devices. All thanks to the twin engine fast charging technology which makes this happen.
According to Vivo, the dual charging chips and circuits that are used in this technology speed up the charging rate of the X6. As can be seen in the GIF image above, there are two devices, one which is using the traditional charging technology, whereas the device on the right is using the twin engine charging technology which charges the device much faster than the device on the left.
Given the fact that more and more manufactures are using fast charging technologies for their devices, having this feature is always welcomed as it allows us to have enough juice for the phone which would last hours with just a couple of minutes of charging.
Does your smartphone support fast charging?