Vodafone offers an Airship Flight on Achievement of 100mn Customers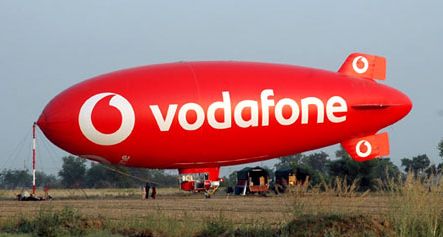 On the occasion of achievements a landmark of 100 Million Customer in India, Vodafone Essar has come out with one of its kind service to rewards its GSM Mobile service customers. Vodafone is giving an opportunity to its customers to watch their city from 1000 ft above the ground with Airship A-60+.
The Boeing 747-sized balloon structure called Airship filled with helium wherein three passengers can seat other than pilot. This Airship ride will be available only in cities of Mumbai, Pune, Surat, Ahmedabad, Jaipur and New Delhi.
Vodafone customers of these cities can avail this once in a lifetime opportunity by participating in a contest by Vodafone. Customers just need to call 123123 and get a free callertune and a chance to win a ride on Vodafone Airship.Not only this one can win Zoozoo goodies simply for spotting the Airship in the city. Just SMS with keyword SPOT location to 56565.
The Vodafone Airship will kick off its journey from Pune on April 16,2010 and will reach Mumbai on 22 April,2010. It will conclude the flight on May 27,2010 in New Delhi. En route the vessel will touch down in Surat, Ahmedabad and Jaipur as well.

Mr.Kumar Ramanathan, chief marketing officer,Vodafone Essar said "We endeavour to bring unique international experiences for our customers as well as innovative products and services. Launching the airship is another such initiative to thank our 100-million endearing customers".