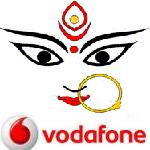 Vodafone Essar today announced two new Bonus Cards for its customers in Kolkata. These Bonus Cards offer unlimited mobile internet browsing for all Vodafone prepaid customers and are available in two denominations of Rs 21 and Rs 251 respectively. Vodafone Customers can recharge with Rs 21 Bonus Card and avail unlimited mobile internet usage for 2 days whereas the Rs 251 Bonus Card offers 30 days of unlimited mobile internet usage.
With this service customers can enjoy a host of services, including watching free internet video clips, checking email on mobile, accessing social networking sites such as Orkut and Facebook, Internet search and lots more.
Its good news for Vodafone users in Kolkata. But Aircel still offers the cheapest GPRS Pack. I have neither used Vodafone GPRS nor Aircel so can't comment on the speeds. If you have used both then do share your views. Also if you are trying out the new Vodafone GPRS Pack then do share your thoughts about it.