Want to play the Classic Snakes like on the old Nokia devices? Then read on
Most of us have grown up playing the classic Nokia Snake game on our Nokia devices, but as development took place, the game went down the memory lane. But there are some who always wish to play the game again. Isn't it? Well now Nokia is reviving all the memories and has used the game in promoting its newly launched Windows Phone.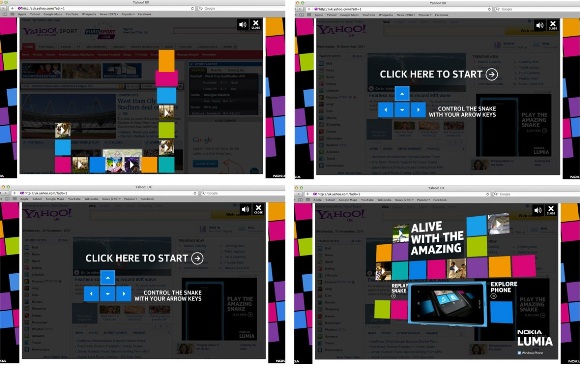 If you visit uk.yahoo.com today, then you'll find that the site is wearing a Nokia Windows Phone theme. Also there is an advertisement running on the left side where you have the Nokia Lumia 800 which says 'Play the Amazing Snake'. All you need to do is click the ad and the use your arrow keys on keyboard to control the snake.
And this is not just a 2D version but the game features what would appear to be live tiles and multiple colours making up the snake. Also, the game makes use of the Yahoo! webpage for elements to be eaten. It is very well made up and users can really enjoy this classic game.
Just a reminder that the game is not easy as it may seem in the beginning. And if you score a 10/10, then do share a screenshot of it with us. So head over to Yahoo UK (http://uk.yahoo.com) now and enjoy. If you miss the game today then you'll have to wait toll November 21st when the game will be on The Sun's website.