WeChat for Android updated to v4.2, video calling and Web Chat arrives
WeChat, the multi platform free mobile voice and text messaging application has just been updated to version 4.2 in the Google Play Store, bringing in many new features for Android users.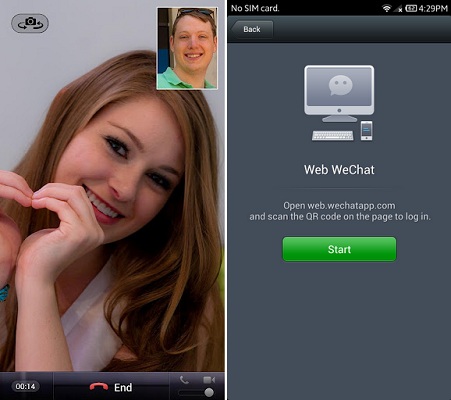 Now Android users of WeChat will be able to make video calls and interact with their friends face to face using their Android smartphones. The Video calls from WeChat for Android can be made and received over Wi-Fi and 3G networks without any hassles.
The new, improved version of the application on Android will also allow selective sharing of Moments using visibility options. User can create of custom-defined groups and reply directly to a friend's comment in Moments using @.

WeChat 4.2 version will also feature new QR name card that can be shared via Facebook. Oh and the new version of WeChat is also accessible on the web, allowing users to chat from their Personal Computers via the browser from http://web.wechatapp.com

The 4.2 Android version of WeChat will also support eight new languages which include Japanese, Korean, Italian, Arabic, and Polish and not to forget Hindi, keeping in mind how big and important the Indian market is for the company.

So if y
ou a WeChat user on Android or still haven't tried it yet, the version 4.2 is all yours to grab from the widget below.