Although we all know that WhatsApp is one of the most popular instant messaging app in world, the company decided to show the numbers that point to its latest milestone. Not just that, to celebrate the new achievement, the app has some new added features.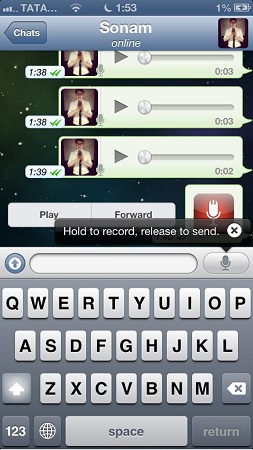 According to Whatsapp, the popular cross platform instant messaging app, which is available on all platforms like iPhone, BlackBerry, Android, Windows Phone, and Nokia, has 300 million active monthly users. The service is said to process a whopping 11 billion outgoing messages and 20 billion incoming messages.
On achieving this new milestone, Whatsapp has rolled out a new update that adds the voice messaging feature. According to users, the voice messaging service is seen on many iPhone devices and a few Android devices have started getting the update now. The red mic button helps to record the voice message and sends it to recipient once recording is ended.
However the voice messaging feature is like a Push-to-Talk feature and doesn't support real-time voice transmission, which would have been expected from the technologically advanced company. The feature addition comes as no surprise as many other new instant messenger apps are already using this feature. Those of you who still haven't received the update, would soon be receiving it.