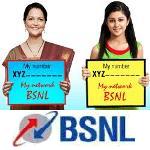 As MNP is round the corner, every telecom operator is trying hard, through online media, print media and social media, to snatch the customers of other telecom operators. But the fact remains that people will not migrate if the telecom operator in their region not offering satisfactory or lucrative services. I am a fan and loyal customer of BSNL and very happy with their affordable, transparent and quality services, so I am listing the reason why you should migrate to BSNL Mobile.
Wide coverage: Is available both in urban and rural areas.
Economical: BSNL mobile has the one of the most economical rates. Many value added services are available free of cost like Missed Call Alert, call forwarding etc.
Customer Care: The Customer Service Centres are widely spread across country where subscribers can personally lodge their complaints and can meet senior Officers of BSNL even without prior appointment.
Pyari Jodi Plan: Subscribers can join most popular Pyari Jodi (BSNL Home Plan) where unlimited free calls from Mobile to BSNL Home land line number can be made.
3G Services: Subscribers can enjoy the 3G services of Voice, Video and Data at affordable prices. 3 G network of BSNL is present in almost all prominent locations in India.
Transparent fees: No hidden charges and excess metering.
High Talk Value per Recharge: BSNL always gives high talk value in all recharge coupons.
Some of you might not agree with me, but I have every right to share my views and so do you. So if you do not agree with me you can post your views.