Windows Phone store is slowly but steadily picking up and building its arsenal of curated apps. Rather than towing the lines of Android and iOS, Windows carefully screens and selects apps so that Windows Phone users have specialized apps worth cherishing. Among these are the just-launched official Discovery, TLC and Animal Planet apps.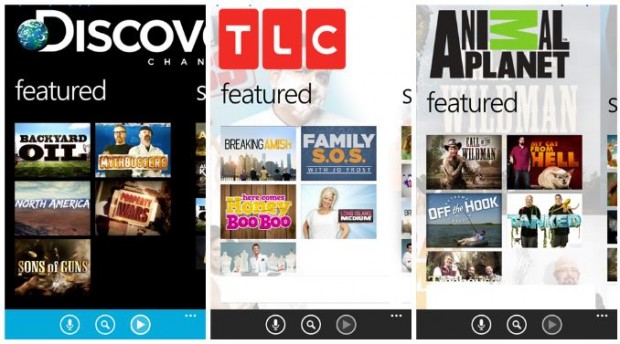 These apps will offer numerous behind-the-scene footage and carefully selected clips. These clips offer a huge variety of interesting stuff like Myth Busters, Gold Rush and others. You can just see the schedule and watch your favourite shows on your phone.
The Discovery channel app shows selected full episodes right on your phone along with the after shows. Click here to download
The TLC app shows daily clips from TLC shows while the Animal Planet app shows a full range of shows like River Monsters, Finding Bigfoot and Parolees amongst many others. Click here to download TLC app and click here to download Animal planet app.
Just to be clear, these apps will work only with Windows Phone 8 OS and currently available in US only, but they should be available globally soon. It is always a treat to watch videos from these channels since there is a huge range of them for people with all kinds of interests and they also make you smarter. Windows Phone is kind of building its niche and apps like these will surely contribute to it.