Xiaomi teases dual rear cameras on its upcoming smartphone
Xiaomi has scheduled an event on September 27 where it is expected to unveil a new smartphone, possibly the Mi 5s. While we are still four days away from the unveiling, the Chinese company has teased dual rear camera setup on its upcoming smartphone.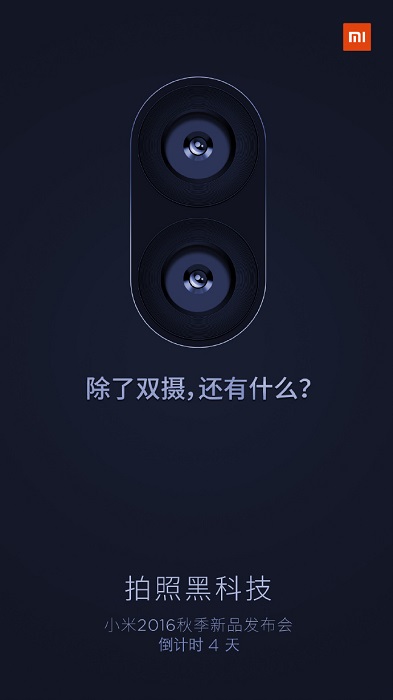 While the teaser shared by Xiaomi doesn't give any hint as to which smartphone is going to be unveiled on September 27, it does suggest that the device will sport a dual camera setup. However, it seems that it might be the Mi 5s as the render that was leaked back in July too suggested the same.
But, if you take a look at that render and this teaser, you will notice that the dual rear cameras were placed horizontally in the render whereas the ones in this teaser are placed vertically. Hence, it's possible that Xiaomi is not hinting at the Mi 5s with this teaser. Also, there are reports suggesting that it will not be the Mi 5s that will be unveiled on September 27, rather, it will be the Mi Note S.
Also, according to the rumors, the Mi 5s with Snapdragon 821 SoC, 6 GB RAM and 64 GB internal storage will be priced at 1999 Yuan. There also are rumors of Mi 5s Plus being priced at 2999 Yuan. As the name suggests, the Mi 5s Plus will have a larger display and will come with Snapdragon 821, 6 GB RAM and 256 GB internal storage.
There are so many rumors surrounding the upcoming smartphone, however, we don't have to wait much as the unveiling is just four days away.