Xiaomi unveiled the Redmi Pro and Mi Notebook Air recently. The Redmi Pro is Xiaomi's first smartphone to sport dual rear camera setup, whereas, the Mi Notebook Air is Xiaomi's attempt to compete with Apple in the laptop market. Besides selling smartphones, tablets and laptops, Xiaomi also sells products like action camera, air purifier, drones and much more. However, it now looks like the Chinese company is all set to foray in to the VR market as well.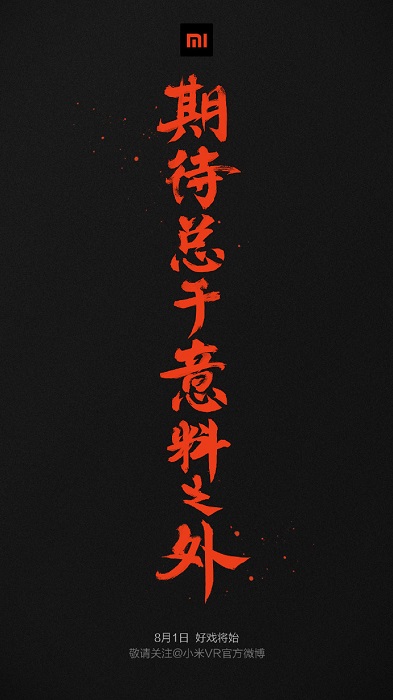 Xiaomi has shared some teaser images on its official Weibo account. The teaser image hints at August 1 launch of the VR headset. There are several players in the market like Google, HTC, Samsung and Oculus which make VR headsets. We have Google's Cardboard, HTC's Vive, Samsung's Gear VR and Rift from Oculus.
The VR headset (image shown below) looks similar to Samsung Gear VR and seems to be powered by the smartphone itself. While one can always use his Xiaomi smartphone along with Google's Cardboard, it's good to have a headset which is optimized properly to work with MIUI based device.
VR (virtual reality) is gaining momentum slowly and steadily, and, with more VR content becoming available to the users, it's no wonder that Xiaomi would like to leverage on this opportunity. Xiaomi's GM Tang Mu has already confirmed that their VR headset will support Google Daydream, hence, it remains to be seen what other features does Xiaomi's VR headset has up its sleeve.
The launch of the VR headset is scheduled on August 1 and will start at 10 am. We should know more details once the headset has been unveiled.