With the younger generation in India following the English Football Clubs with dire dedication, Xolo has partnered with Liverpool Football Club to give the Indian fans more to cheer about.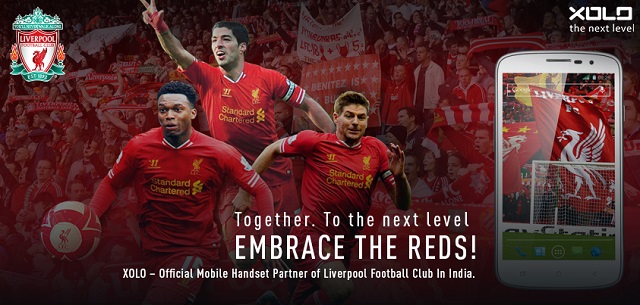 Xolo has officially announced a three season exclusive partnership with Liverpool Football Club making the company the official regional marketing partner for the Indian sub-continent, which also includes Sri Lanka, Nepal and Bangladesh. The deal which comes into effect this season would ideally last till May 2016.
With the partnership with Liverpool Football Club, Xolo would provide its customers dedicated content from Liverpool FC. Besides that there is also exclusive merchandise and even a chance to meet Liverpool FC players. A few chosen fans would get an opportunity to witness live matches at Anfield, the team's home-ground.
To begin with, Xolo has announced the 'One-Two with Robbie' Facebook contest, winners of which would get a chance to meet Liverpool legend Robbie Fowler at an event in Delhi and interact with him.
Speaking about the partnership with Liverpool FC, Sunil Raina, Business Head, XOLO, said, "Liverpool FC is one of the most popular clubs in the country, with an iconic legacy. We are thrilled to have this association with a club that is revered as it seeks to grow the popularity of the sport in India. Through this association with Liverpool FC we will seek to not only increase connect with the youth but also drive growth for football in India. We believe that the partnership with the iconic Liverpool FC will bring many synergies and exciting opportunities to our consumers and partners in India."