Micromax announced the availability of Jio Preview Offer for its smartphones earlier this week, and now today, its subsidiary YU has also announced the availability of Jio Preview Offer for its 4G smartphones.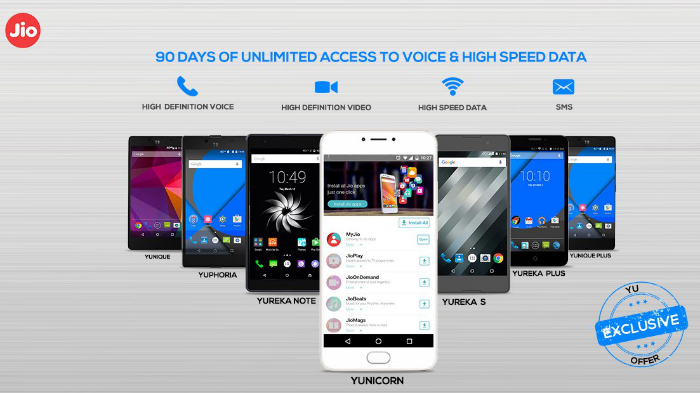 Those who buy YU smartphones will also get Reliance Jio 4G SIM which will come with Jio Preview Offer. Under the preview offer, users will get access to unlimited calls, SMS and 4G data for a period of 90 days, not to forget access to Jio Apps.
How to avail the Jio Preview Offer:
The Jio Preview Offer can be availed by YU consumers on all models by downloading the MyJio application available on Google Play and then find the 'Generate coupon' option.
A bar-coded coupon (which is non transferable and has a limited validity period) will then be generated.
Consumers are then required to submit any one proof of identity and proof of address for verification at the nearest Reliance Digital and Reliance Dx Mini stores or select modern trade outlets.
Upon successful submission and authentication of all documents, a Jio SIM card will be handed over to the consumer.
Consumers can then activate the 'Preview Offer' from the MyJio app, and access all the services including JioPlay, JioOnDemand, JioBeats & JioMoney.
"As a new age brand, we have been future ready and have introduced all phones that are 4G compatible. With this preview offer our consumers will be able to enjoy the 4G benefits like never before." said Mr. Shubhodip Pal, COO, YU Televentures.
This offer is applicable to all the YU smartphones with 4G capability with immediate effect.