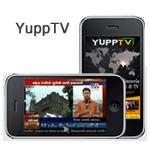 YuppTV app is now available on iPhones and iPod touch. YuppTV is a live TV streaming service provided by Global Takeoff Inc. They are service providers for Live TV, Video on Demand for Mobiles and PCs. Today YuppTV announced YuppTV app for iPhone, iPad and iPod Touch. This free application is available for download, via iTunes. The application can also be shared with contacts in your phonebook.
With YuppTV app, iPhone users can enjoy high quality streaming video on their device. It also features a next generation mobile marketing tool which can deliver custom mobile advertisements along with the live steam. It presents a perfect marriage between entertainment and advertisement on the internet. With the availability of a rich bouquet of Indian TV channels, YuppTV can touch lives of a million iPhone users around the globe.
At present YuppTV app is available for iOS 3.1.3 version and will soon be launched for iOS 4 version. It provides access to many Indian language channels like Hindi, Telugu, Malayalam, English and Kannada. In near future, more language channels like Gujarati, Marathi and Tamil will be available.
"YuppTV iPhone app is the first application to place overlay advertisements on live streams thereby creating a new and innovative marketing tool. Advertisers can target iPhone users to send relevant and useful advertisements which increase the chances of the advertisements being viewed. We would soon extend this platform to other content providers to reach the expatriate communities across the world," said Udaynandan Reddy, CEO and Founder, Global Takeoff Inc.