While you use your USB drives with computers, many times, you take it along with you just to find that it can't be used with your smartphone unless it is an Android device that has a USB OTG support. Yet another reason Android wins over iPhone! Did you know that there are some cool things you can do with USB OTG on your Android? We will show you a few ways how a USB OTG is helpful when you are on the go along with your Android smartphone.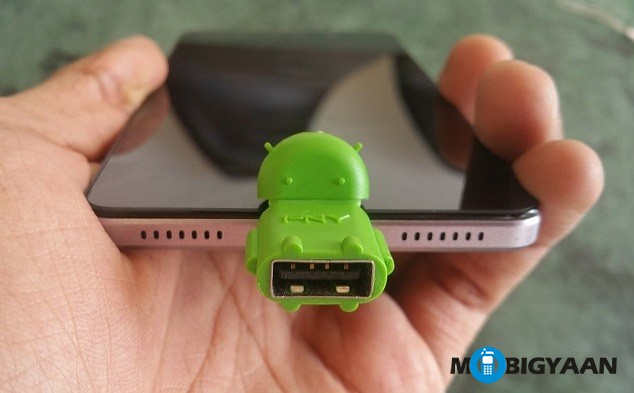 A USB OTG allows you to connect any type of USB that you use on your computer with your Android. It is very popular among Androids. You can enjoy transferring your stuff from one phone to another, or just plug in a mouse or keyboard to control your smartphone like a  PC using a USB OTG cable.
5 cool things you can do with USB OTG on Android
Before getting started, you need a USB OTG cable to connect it with your smartphone. You can easily buy it on the internet for a few bucks if you do not have it. It can cost you as little as ₹50 yet can go ₹100 or more if you buy from a recognized brand. It doesn't matter because all the USB OTG cables work the same way, they are just different on the outer side. You can also find on local stores near you for cheaper rates.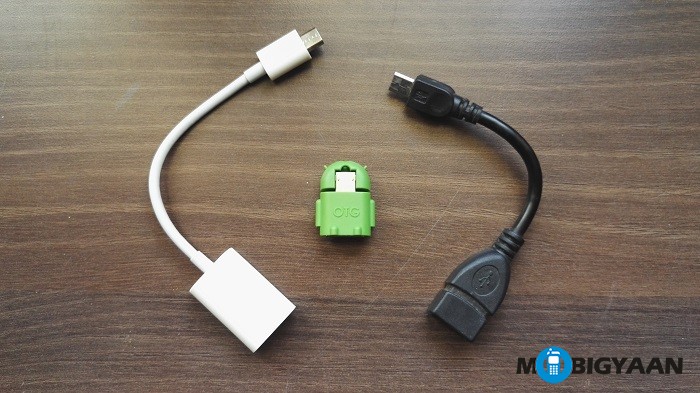 Note: Be sure that your Android device supports USB OTG. To see if it supports on your devices, check the specifications on the manufacturer's website or see a small USB OTG logo on the box it came in.
Connect Pendrive or External Hard Drives
The most obvious is the Pendrive that comes to the top just because you use it very often. Plug in your Pendrive with the USB OTG cable and use it like you always do. Other than that, you can also connect external hard drives, however, it may not work on some devices due to high power requirements unless it has an external power source to work.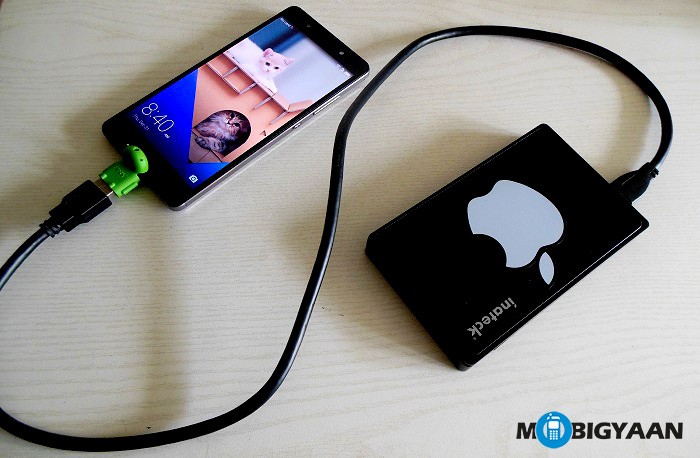 Please note that the NTFS file system, as seen on the external hard drives, may not work perfectly every time some devices. Well, a good thing is most of the Android devices easily support FAT32 file format. A great a 3rd party file explorer app like 'ES File Explorer' comes in handy when you plug in any type of USB thumb drives or external hard drives.
Connect Keyboard and Mouse
Android's is popular for its versatility. It is now easy to connect USB mice and keyboards and then use your Android as if you are using a desktop PC. You will be happy to know that all the Android devices work pretty well with mice and keyboards, especially wireless ones.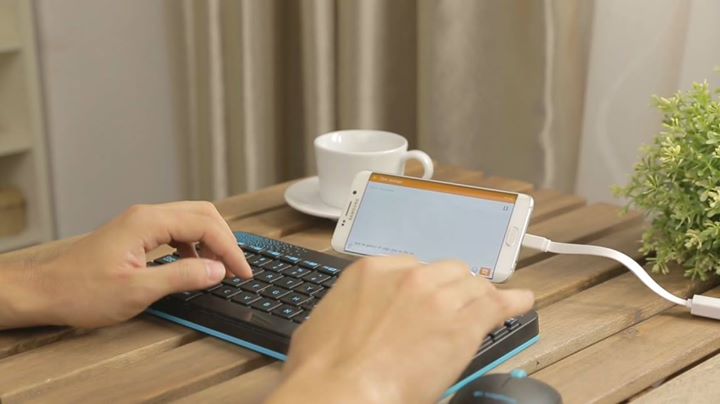 If you have a wired or wireless mouse or a keyboard, you can connect it to your smartphone with the USB OTG cable and experience the desktop within your Android device. Writing emails and other stuff are a lot easier with keyboard and mouse.
Connect Video Game Controllers
Are you a gamer? You love to play games with gamepads. Since, you love gaming on Android device, you can now play games with Microsoft Xbox 360, Sony Playstation 2, 4 and other Controllers or gamepads on your Android devices by connecting them via a USB OTG connector or cable and Android device. Simple, plug-and-play and there you go, play games on your Android using game controllers.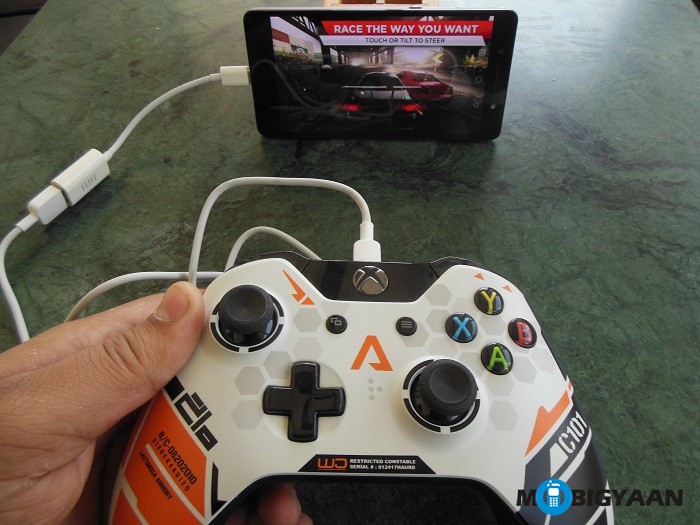 Games like Grand Theft Auto, Need for Speed, Asphalt, Modern Combat, Call of Duty, and others can be enjoyed with game controllers. Some devices and games may not support controllers. Unfortunately, Sony Play Station 3 controller requires rooting your Android. Somehow Nintendo Wii remote can also be connected. Some newer controllers like Xbox One may need a controller support inside the game or a 3rd party app should do it. There's one app I know that maps the keys of any controller you connect, it's Tincore Keymapper available for free and paid both.
Connect Printers
Just like the mouse and keyboard, printers can be easily connected. You can plug-and-play Printers with USB OTG. It is a bit of a hassle when you transfer files it to your PC and take it on a USB thumb drive to just print a single darn document. Now, you can start printing anything with your Android device without any need of a LAN cable or any other connection.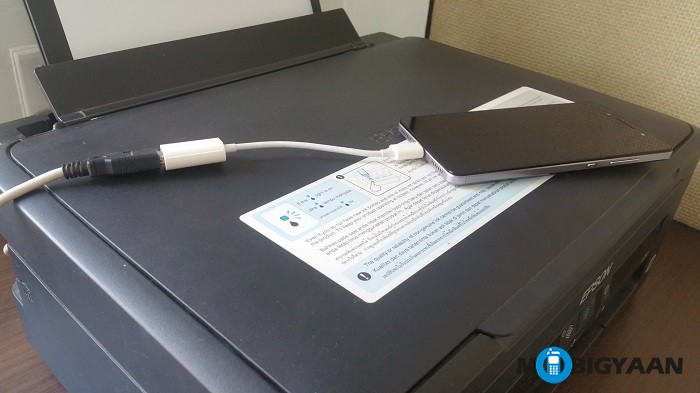 On some printers, switch to PTP (Photo to Photo) mode in your USB connection settings to print documents and photos.
Connect external cameras
There are other things you can do with USB OTG like connecting an external camera module or simply a DSLR camera. Your Android device can be used as a huge live screen with the ability to control shutter speed, focus, capture, and more.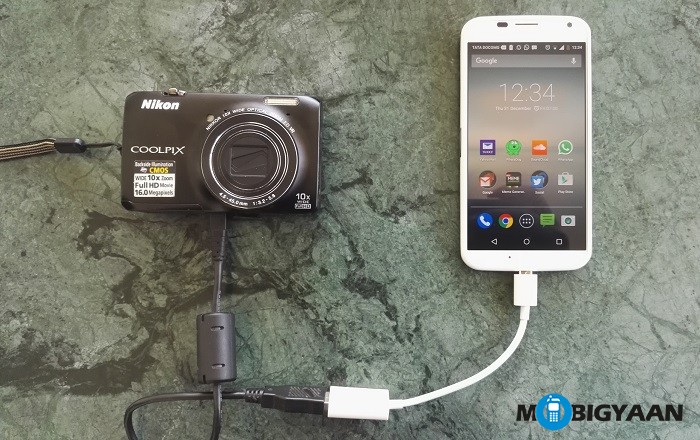 If you are connecting a DSLR camera preferably from Canon then you may need a DSLR Controller app. The app works with manufacturers like Sony and Nikon, however, the app is still in a BETA phase and may not work correctly. Plus, it's not at all free, so read reviews, ask someone who has already used it with the device you are going to use before buying the app.
So, which one you'll pick? What you're going to use with your Android via USB OTG? Share us in the comments. For more tutorials like this, visit our How-To Guides.