Nokia had earlier confessed that Windows Phone handsets with low memory like the Lumia 610, with 256MB of RAM, cannot run some of the popular apps.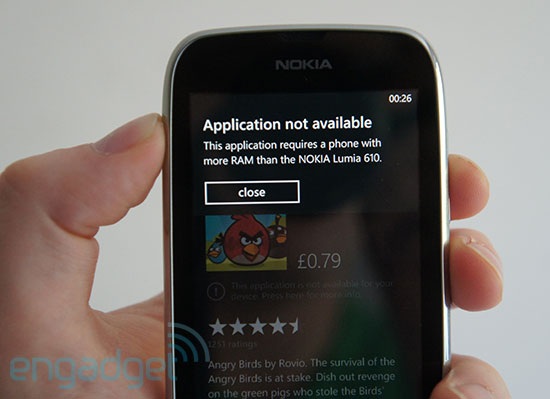 Now AAWP has done some research and has and found that out of the 86,292 apps currently available in the Windows Phone Marketplace, only 1.6% aren't compatible with 256MB phones.

The numbers do increase if we count in more popular apps. From the top 10,000 downloads in the UK, 4.6% are incompatible with low-memory devices, while 6.4% of the top 1,000 apps won't work.
Including Angry Birds and PES 2012, some of the games that don't work include Plants vs. Zombies, The Sims 3, and Earthworm Jim, though we have got confirmation that an optimized version of Angry Birds for Windows Phone Tango.