Acer Iconia A200's promo video leaked
It seems that the leaks for Acer's Iconia Tablets continue. And this time around the Iconia A200's first promo video has been leaked which reveals quite a few features of the tablet. The A200 runs on Nvidia's Tegra 2 instead of the latest Tegra 3 quad-core processor.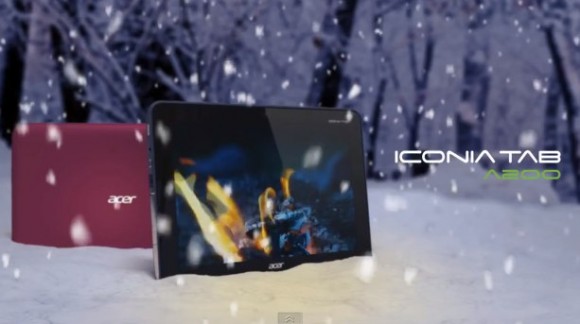 There are no official specs of the A200 revealed yet but the display seems to have a resolution of 1280 x 800 with Bluetooth 2.0 and also a microSD card slot. In the video we can also see that there is support for a full sized USB port with which we can use external drives to access content. If we go by the previous naming strategy adopted by Acer, the Acer Iconia A201 should have 3G onboard and so the A200 will only have Wi-Fi on it.
From the video we cannot make out as to which Android OS the tablet is running on it. It can be Android Honeycomb or even the Android Ice Cream Sandwich but it seems that Acer has modified the icons to provide a different experience. The tablet looks to be a full-fledged multimedia machine with movies, e-book reading and gaming shown off in the video. We can also see how the front facing camera for video chat works and is used. Users can also take screenshots during the video call using the Acer Ring which also seems to be a nice cool feature.
You can catch the video below: