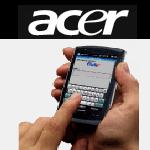 The Smart Handheld Business Group of Acer Inc. has launched the new range of Smart Handhelds in India namely neoTouch S200 beTouch E101and beTouch E200.
Acer neoTouch S200 comes with functions and applications like Mail, Mobile Internet, multimedia and Microsoft Office Mobile, you always have your office at hand, no matter where you are. This Windows phone features a wide, high-resolution touch screen measuring 3.8 inches, 3G+ connectivity (HSPA), Wi-Fi and Bluetooth, and the powerful Qualcomm 1GHz Snapdragon processor to ensure fast Internet access, superb multimedia playback and superior graphics for games and applications. All these outstanding features and technology are combined into a sleek and elegant design that conveys performance and excellence. Its is priced at Rs. 35,000 (approx).
Key Features of neoTouch
Clear and easy-to-use virtual keyboard

3.8″ High-definition touch screen display

5 Megapixel autofocus camera with LED flash and VGA video recording

Direct link to social networks (Facebook, YouTube, Flickr, Blogger)

3G+ high speed connectivity and integrated Wi-Fi

Assisted GPS and Google Maps with Latitude, Street View, Traffic, POI Search

Complete set of productivity applications

Automatic wireless and web-based device synchronization
Acer beTouch E200 is available in black and white, and featuring an 3.0" touch screen and 5 navigation keys for easy touch or scroll browsing. It features an user interface that guarantees quick access to email, bookmarks, calendars, and music, but also to YouTube, Google Maps, and Google Search wherever these services are available. It has a 3.2 Mega pixel camera. It is priced at Rs.  17,900 (approx).
Key Feataures of beTouch E200
Simple to use Acer User Interface and Applications

Instant access to content and applications

3.2 Megapixel camera with video recording

Direct link to social networks (Facebook, YouTube, Flickr, Blogger)

Internet on the Go

Touch screen and slide down numeric keypad
Acer beTouch E101 runs on Windows Mobile 6.5. It comes with the latest version of Internet Explorer, Windows Marketplace and Live Messenger. With the help of a 3.2" touch screen and jog wheel, you can access websites with ease, scroll pages, and zoom in on details. You can also consult the latest posts on Facebook or view your friends' photos on Flicker. It also features embedded maps solutions. It is priced at Rs. 11,900 (approx).
Key Features of beTouch E101
3.2″ Touch screen and scroll wheel

Direct link to social networks (Facebook, YouTube, Flickr, Blogger)

Instant access to content and applications

Customizable home screen

Internet on the go