TATA Indicom launches Green Money Transfer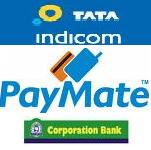 Tata Indicom in association with Corporation Bank, and PayMate has launched 'Green Money Transfer'- a unique person-to-person mobile money transfer service.  The transfer of funds via mobile will be facilitated by PayMate's technology, Corporation Bank's banking system and Tata's PCO and True Value Shop (TVS) network. Tata Indicom is the first Indian private telecom operator to enter into a partnership of this nature wherein a PCO/TVS is used as the initiation point for person-to-person money transfer.
The service enables any mobile phone user to send or receive money instantly using their mobile phone to authorise the transfer. To initiate a transfer, the customer simply needs to visit their nearest Green registered TATA PCO or TVS and place a request for money remittance (Upto Rs. 5000) to any person across the country. Similarly the recipient can also collect the transferred amount by visiting the nearest Green TATA PCO or TVS with a transaction authorization code received from the sender.
Green Money transfer service is primarily targeted at the un-banked population of the country by providing them a branchless banking service to send and receive money effortlessly. The service is secure and speedy as compared to other money transferring services available for remote access areas at present.
Steps for person-to-person mobile money transfer
Customers can register for this service at a Green TATA PCO, TVS or with Corporation Bank. Upon registration, they will receive an mPIN to enable them to authorise the transaction.
A sender in Mumbai goes to a Green Tata PCO or TVS and places a request of transferring Rs. 5000  to his parents in Pune

The sender hands over the cash to the Green Tata PCO or TVS. The PCO or TVS triggers an IVR call to the sender

The sender enters his mPIN to authorize the transaction and gets a Transaction code on his mobile to be conveyed to the recipient.

The recipient goes to the nearest registered Tata PCO or TVS and shares the transaction code.

The PCO or TVS triggers an IVR call to the receiver who enters his/her mPIN to verify the transaction

Once the verification is done the cash is handed over to recipient.