BlackBerry App World is now available for users in India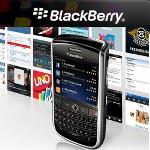 BlackBerry App World, the official app store for BlackBerry smartphones, is now available for users in India. BlackBerry App World is available for BlackBerry smartphones that include a trackball, touch-sensitive trackpad or touch-screen running BlackBerry OS version 4.2 or higher. Users require an active BlackBerry data service plan with Internet access to access BlackBerry App World. Data charges may apply for customers that have a limited data plan.
Users can download BlackBerry App World to their BlackBerry smartphone by visiting
http://in.blackberry.com/services/appworld/
or mobile.blackberry.com from their handset. BlackBerry App World is designed to automatically present the relevant catalog of applications available for a user's specific BlackBerry smartphone model. BlackBerry App World can be accessed over both Wi-Fi and cellular networks.
BlackBerry App World features include:
Front Page Carousel : BlackBerry App World showcases several applications on its front page carousel, making it easy for users to browse through a select number of featured applications. Featured applications vary from time to time, helping users discover new applications for practically every aspect of life.
Top Downloads : The "Top Downloads" area on BlackBerry App World lists applications that are the most downloaded.
Categories – BlackBerry App World features a variety of application categories. Categories include games, entertainment, IM and social networking, news, weather, productivity and more.
Search/Filter : BlackBerry App World includes a keyword search with filtering capabilities.
Reviews : Applications on BlackBerry App World can be reviewed by users and those reviews are reflected in star ratings. Users can easily access and read reviews, see screenshots and read a description of each application before they download it.
Recommend – BlackBerry App World users can recommend applications to other people through email, PIN, SMS message or BlackBerry® Messenger.
Application Storage : BlackBerry App World includes a folder called My World, which keeps track of applications the user has downloaded. It is a personal storage space that allows users to uninstall and re-install applications.
Application Archiving : users can archive applications to a microSD card or built-in storage memory on their BlackBerry smartphone.
Update Notifications : Users are notified of updates to applications they've downloaded on BlackBerry App World.
India-specific applications at launch include Hungama MyPlay, CNBC TV18 Moneycontrol, Mundu Radio and Arrowmatics.