Airtel or Reliance or Tata DOCOMO or Other. Confused???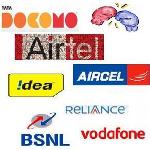 Do you want to buy a new mobile operator and/or change your existing mobile operator, but confused as these days almost every Telecom Operator is offering its Mobile subscriber "Pay Per Second" pulse.

When TATA DOCOMO started it Mobile Services by offering "Pay Per Second" Plan the entire Telecom Industry was in Wait & Watch mood. It became inevitable for other Telecom Operators to reduce their call charges and introduce Per Second Pulse when they saw that TATA Teleservices Ltd achieved the highest number of subscribers in month in August and September.

So, the story so far is that all telecom operators are now offering Per Second Pulse to their subscribers. Now the point I want to stress is that now as almost every telecom operator in India is providing almost same tariffs, how should you choose between the telecom operators, which one use?

According to me their are various aspects based on which you can judge an telecom operator. I am mentioning them in the order of my preference (Do tell me if you look for any other aspect which is not mentioned by me)

Network Coverage

Network Quality

Tariff

Additional Benefit Packs (Free SMSes etc.)

Customer Care

VAS

Based on above aspects which telecom operator are you using right now or willing to use in future? Do share your valuable views with us.