Adobe has just brought its photo sharing and editing app Revel to the Google Play Store. The app is free for all Android users and is available now.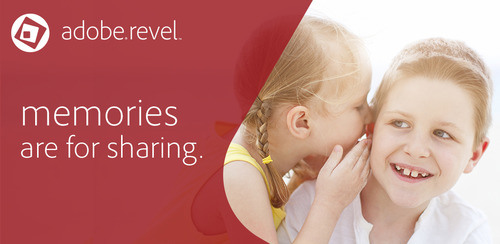 With a plethora of photo sharing apps in the reckoning currently. You would have thought, who needs Adobe Revel? Well, that's what i thought but there are some cool nifty features that Adobe Revel brings.
There's the ability to share a photo privately as well as the ability to share with a photo in the Group Library. Group Library can be made for friends or family and you can shhare a moment with them easily through Adobe Revel. Since, the photos shared are saved on the cloud, you won't miss if anyone uploads a picture.
Take a look at the features below:
Invite friends and family to join a Group Library, where you and your inner circle can create a huge collection of everyone's photos and videos. You control who can view, add, organize, and edit the memories in a Group Library.
Create albums to keep your photos and videos organized.
Share albums with loved ones in private web galleries.
Share photos and videos on your favorite social networks.
Edit your photos to make your memories look their best.
Adobe Revel is available on platforms like iOS, Mac and Windows 8. There's an online portal as well for the service.
If you are an Android user, you can surely give the app a try. Hit the link below and download Adobe Revel for your Android device.
Adobe Revel – Google Play Store