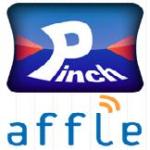 Affle, a mobile media company today announced the launch of Pinch, its smartphone messaging product in India as well as globally. Pinch aims to redefine the way users discover friends, message them and access a host of location based value services.
Pinch is a Smartphone messenger which discovers friends through the phone contacts, Facebook, Twitter, Blackberry, Android and email contacts and offers contact & group management services. It is location aware and allows selective sharing of location. It enables cross platform support for animations and over 475+ emoticons. A distinctive feature of Pinch is that it enables smartphone users to send messages over data across platforms without incurring any SMS/MMS charges.
Pinch is priced at $0.99 (Approx. INR 45) (Special Introductory Offer @ 75% Discount till 19th July). Supported mobiles and Platforms of Pinch include iPhone 2G, 3G, 3GS, iPhone 4G (iOS4), iPod Touch, Android 2.x, Blackberry 4.x, Symbian and PC.