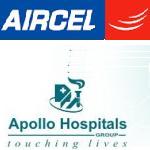 Aircel  today announced the launch of the first Tele Healthcare delivery, 'Aircel Apollo Mobile HealthCare' for the consumers in India in association with the Apollo Hospitals Group. Aircel along with Apollo will address Healthcare plans to reach out to the masses anytime anywhere with the help of Tele Medicine and Tele Triage.
Tele Triage is a solution to manage patient health concerns and symptoms via a telephone interaction by doctors. This service provides a structured medical advice and a disposition based on the symptoms and is available round –the- clock, from qualified Apollo Clinicians. It provides basic healthcare at the convenience of your home. It is Low -cost, High- quality innovative healthcare solution on your Mobile. In case you need Medicine (OTC) then the Doc can have it delivered to you through Apollo Pharmacy. In case of an emergency the Doc can send an ambulance through the Apollo Chain where-ever possible. Also, if you need to set up an appointment with a specialist then the Doc will do the needful. The service will be charged at Rs. 45 per consultancy.
Tele Medicine provides healthcare in real-time online. This allows the patients to consult physician /specialist over video for immediate health care. The patient data is collected through various processes like history, data-entry, biometrics and integration of medical equipment. The data is stored and shared between healthcare professionals to diagnose, treat and follow-up be it (regular treatment, post–surgery etc). This will be available at exclusive Aircel Retail outlets and at other Retail outlets as well. This services will be available Rs. 250 onwards, maximum charges will be Rs. 1000.
Aircel will start rolling out these services from Chennai