Tata DOCOMO (Andhra Pradesh) introduces new ISD Packs. Call US & Canada at 1p/sec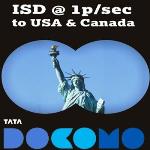 TATA DOCOMO has launched new 'ISD Packs' that its subscribers in Andhra Pradesh to make international calls to any phone in the US and Canada at 1 paisa per second! The new ISD Packs are available at Rs 59 with a validity of 30 days and Rs. 205 with a Talktime of Rs. 145 with validity of 30 days.
"Tata DOCOMO pioneered the 'Pay Per Use' and '1 paise per-second' concepts in India. Just a year later, the launch of this ISD Packs extends our unique pricing paradigm to international calling as well," Mr. NV Subbarao, Regional Head – South East, TATA DOCOMO, said. "At our launch last year, we had promised to continue to innovate and introduce industry-changing products and services—the ISD Packs are testimony to this promise," Mr. Subbarao added. He further added introducing ISD packs was the need of the market with the shrinking international geographies and desire of the consumer to connect with their loved ones abroad at affordable international tariff. The Rs. 205 & Rs. 59 ISD packs will enable Andhra Pradesh subscribers to talk to their heart out at local call rates!
"Our new packs surely are cost-effective proposition for the people, allowing them the convenience of affordable calling to these countries. This is our way of thanking our loyal customers, and we are sure this will delight them and bridge all communication gaps between family members and friends," added Mr. Subbarao.