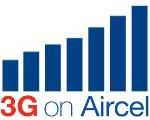 Aircel today announced the launch of its 3G services in Kolkata. It's noteworthy that BSNL, MTNL, Tata DoCoMo, Airtel and RCOM are already offering 3G services and now Aircel too has entered the arena with a big bang!
Commenting on the launch, Gurdeep Singh, COO, Aircel, said, "We have been working very hard in getting this right and have taken every step with deliberation. This is reflected in our success in the years leading up to 2010. 3G is a natural next step. We are excited about 3G, as we see it as something that will begin to transform our lives in many ways. The youth comprise over 50 percent of the country's population and are among active internet users and also avid users of Facebook, YouTube and other social networking sites. The launch of 3G services on Aircel will address the high speed digital needs of the consumers thus unleashing the power of the Internet further creating opportunities for education, employment, engagement and entertainment which will empower the consumers and impact their Lifestyle."
Aircel has always strived to be national brand with the local connect, which is able to touch the cords of each target segment in a special way and is confident to do the same through its 3G services. It feels that it will be able to offer something to all segments be the youth, housewives, professionals, children or even the elderly. The reason as to why Aircel is so confident about its 3G plans is because it realizes that the true essence of 3G does not lie in just broadening the pie but by offering its consumers enriched content that they need and will be useful to them.
Additionally, the company which pioneered the concept of pocket internet has now come out with some dynamic bundled plans for the students, executives, and heavy users addressing that it feels will help them cater all their needs enabling them with Voice, SMS as well as 3G data on Aircel. At an all inclusive price of Rs.132, Rs. 252, Rs. 502 & Rs.802 the consumers will be able to enjoy 75MB, 150MB, 350MB & 1024MB data respectively for a month with inbuilt voice & SMS. Apart from that Aircel also has stand alone data plans which ensure high speed experience at Rs. 92 for 100 MB.