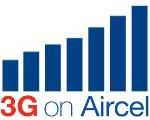 Aircel announced the commercial launch of its 3G services today for its subscribers in Chennai.  Aircel accquired 3G licenses for 13 Telecom Circles – Tamil Nadu, Andhra Pradesh, Karnataka, Kolkata, Kerala, UP (East), Bihar, Assam, Orissa, West Bengal, North East and Jammu & Kashmir.
Gurdeep Singh, COO, Aircel, who launched the services said, "We have been working very hard in getting this right and have taken every step with deliberation. This is reflected in our success in the years leading up to 2010. 3G is a natural next step. We are excited about 3G, as we see it as something that will begin to transform our lives in many ways. The youth comprise over 50 percent of the country's population and are among active internet users and also avid users of Facebook, YouTube and other social networking sites. The launch of 3G services on Aircel will address the high speed digital needs of the consumers thus unleashing the power of the Internet further creating opportunities for education, employment, engagement and entertainment which will empower the consumers and impact their Lifestyle."
He further added, " At Aircel we have always had a clear focus on the future and have uniquely positioned ourselves by being the first to introduce, products and services that address relevant needs of the consumers be it the Aircel Pocket Internet, Aircel Pocket Apps store, Aircel Apollo Mobile Health Care and the  first ever Facebook Voice Updates on Aircel . It has been our constant and consistent endeavor to offer our consumers best in class on the Mobile anytime anywhere."
Aircel 3G Plans :
The base rate for Aircle 3G is 3 paise per 10KB. Aircel will offer 4 bundled plans including Voice, SMS as well as 3G data on Aircel at an all inclusive price of Rs.132, Rs. 252, Rs. 502 & Rs.802, aircel will offer 75MB, 150MB, 350MB & 1024MB data respectively for a month. In addition to this, Aircel will offer a data plan at Rs. 92 for 100 MB.
Aircel also announced introductory offer. To know more about it visit aircel.com