Aircel launches Mobile App Store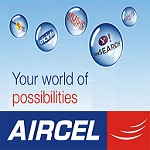 Aircel and Infosys Technologies Ltd. today announced the Launch of a Mobile Application Store. The Aircel Application Store will offer a wide variety of ready-to-use experiential applications across the universe of devices.
Powered by Flypp from Infosys, a "Ready-to-Launch" application platform which will integrate into Aircel's technology environment, the Aircel Application Store will offer a bouquet of applications drawn from an Infosys-managed ecosystem of independent software vendors (ISVs) and innovators in India and globally. Aircel will bring its deep consumer insights to drive the most relevant applications for the consumers in India offering a rich and engaging customer experience.
Mr. S. D. Shibulal, COO and Member of the Board, Infosys said, "We are delighted to partner with Aircel on their strategic initiative to redefine consumer experience. Flypp is part of our continued thrust to provide platforms and products to help our clients rapidly capitalize on new business opportunities."
Mr. Gurdeep Singh, COO, Aircel commented, "Aircel made a promise to its customers to offer them a, 'World of Possibilities', and today we have taken another major step in keeping that promise. Application Stores have changed the lives of consumers across the Globe and now in India, the Aircel Application Store will provide rich consumer insight to drive and offer the consumers a broad selection of  most relevant applications to choose from in the most convenient manner be it through Voice, SMS, GPRS or the Internet on your Mobile. Our endeavor is to truly democratize products to empower the consumer and develop an Ecosystem."