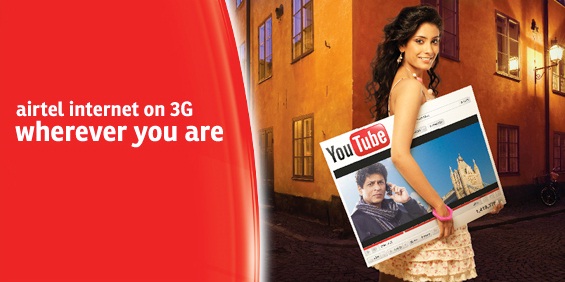 Kerala, get ready to experience Airtel 3G. Bharti Airtel today announced launch of its 3G services in the state. In the first phase of roll out Airtel 3G will be available in Kochi, Trivandrum and Calicut. Airtel 3G services will be available for customers in Kerala starting midnight on 27th July 2011.
Commenting on the launch, Mr. Rajiv Rajgopal, CEO – Kerala & Tamil Nadu, Mobile Services, Bharti Airtel said, "With the highest Human Development Index and literacy rate in India, Kerala is indeed well poised to represent the strong growth and development being observed by our country today. Following the deep penetration of voice telephony across urban and rural India, the introduction of 3G services in the country marks the next wave of telecom revolution , one that will offer a world class data services experience on the mobile device. Today, we are truly excited to bring the Airtel 3G promise for our customers in Kerala. We believe that Airtel 3G will lead the data and internet revolution in Kerala, bringing our customers in this part of the state closer to an all new world of possibilities."
To know more or join Airtel 3G services – visit http://www.airtel.in/Airtel3G/ or call 12134 (toll free) or SMS '3G HELP' to 121.