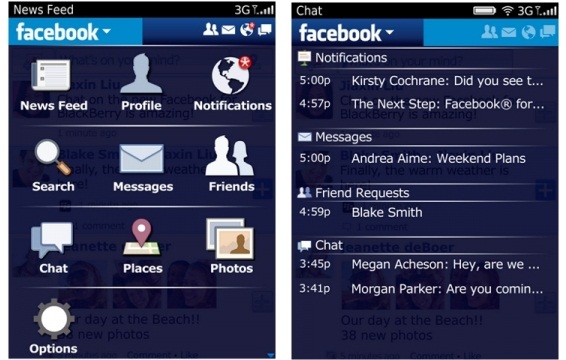 The v2.0 of the Facebook app for BlackBerry will finally leave the beta stage and be official very soon. The new version of the app will be bringing some exciting features to make your Facebook experience on your BlackBerry handset even better and intuitive. The Facebook for BlackBerry smartphones v2.0 app features a complete user interface makeover and will be available for BlackBerry OS 5 devices and above.
Here are some of the new features that the app will offer:
Brand New User Interface: The UI of the app has been totally changed which includes a new navigation grid and a notifications bar that borrows from the BlackBerry 6 "Today View", plus Messages, Friend Requests and Chats all in one location.
Facebook Chat: Finally the Facebook Chat is fully integrated with the BlackBerry smartphone and you can start a conversation within the app or from the Messages app on your smartphone. You'll be notified of new chat messages even when you're not using the Facebook app.
Improved News Feed
: You can scroll effortlessly through your Facebook News Feed and now you have the 'More' button (+) to 'Like' or add a comment to a post. The enhanced publisher functionality allows you to post photos to your Wall, add an update, or check in to a Facebook Place right from the News Feed.
Enhanced Profiles:The new Profile interface now provides Wall, Info, and Photos tabs for an even better browsing experience. New to v2.0 is the ability to view key information on Profiles and Pages, such as contact info, basic info like birthdays, hometown and relationship status, and likes and interests. Plus, you can discover which friends you have in common with another user with the Mutual Friends feature. You can also now view a user's Friends List from their Profile if their privacy settings permit this.
Core Integration with your BlackBerry smartphone: The Facebook for BlackBerry smartphone v2.0 app is integrated everywhere you expect it to be, like your BlackBerry Message list, BlackBerry Contacts, BlackBerry Calendar, BlackBerry Browser and even the BlackBerry Messenger. You can share Facebook posts with BBM contacts and invite friends to BBM when you come across a PIN posted on Facebook.
Here's a quick video showing the new Facebook app in action.
The new version of the app will be available soon so keep a lookout for it on the BlackBerry App World.