Airtel Broadband TV and Games On-Demand VAS launched for 4G customers, free trial available
Along with the launch of the 4G LTE service in Pune, Airtel has also announced the launch, availability and free trial of various Value Added Services like Airtel Broadband TV, Games On-Demand and Airtel movies.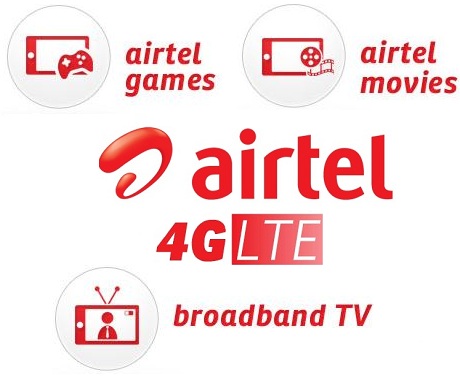 Now users of the Airtel 4G service can enjoy high-definition movies, stream live TV content directly onto their laptop or desktop and play their favourite games over your Desktop or laptop.

Airtel Broadband TV:

The Airtel Broadband TV service will allow a subscriber to stream live TV content directly onto the Laptop or desktop using the Airtel 4G LTE service without the prerequisite of a cable or set-top box connection. Users can enjoy 35 Live TV Channels + 5 VoD + 7 Full Movies.

This service will soon be upgraded to 76 channels across various genres including movies, music, entertainment and news. Airtel 4GLTE customers will also get one month trial to broadband TV for a month without any charges. After the trial period, customers can choose the monthly subscription pack that will be available at Rs.150 or the weekly pack at Rs.49.


Games on Demand:

Who doesn't love games and Airtel 4G LTE will let you play all the video games you want on your PC and laptop which will provide users a seamless gaming experience.

With 7 plans starting at Rs. 5 a day for 30 games to a full-fledged Rs. 199

offering

that lets you play over 350 games/month there's something for everyone. Big names include FIFA, NFS and even Bejelewed.

As an Airtel 4G user, you are entitled to a free trial of 7 days as soon as you register. In the trial, you get to access all the games that are provided on the website. Once the trial is expired, you can subscribe to any of the available subscription packs.


Airtel Movies:

Using Airtel 4G , subscribers can now experience seamless movie viewing without any buffering, lag and drag on their laptop or Desktop. The Airtel movie library consists of 1250 titles consisting of various movies across different language and genres. The monthly subscription pack will be available shortly at Rs.149.

The various 4G LTE data

plans

that users can opt in for depending on their needs are as follows:
Plan name

Rentals

Free usage quota

Charge

after

quota

Speed after quota completion

(INR)

(GB)

(INR)

(

kbps

)

Break free

999

6

Nil

128

Break free Max

1399

9

Nil

128

Break free Ultra

1999

18

Nil

128

Break free Ultimate

2999

30

Nil

128

For more details on the 4G device costs visit here.