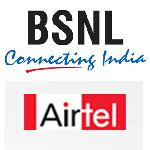 Airtel had recently slashed its broadband price. I got emails from few of the readers that which Broadband service they should use (BSNL or Airtel). Instead of answering them individually I chose to share what I think with all the MobiGyaan Readers. In this article I will be comparing Unlimited Home plans of BSNL with that of Airtel.
I will compare all the Plans on the basis of Price, Bandwidth, Data Transfer Limit and any additional benefits provided with the plan.
I will be starting with Airtel's Cheapest Broadband plan which is priced at Rs. 749 (Surf 749). This plan provides bandwidth of 256 Kbps during day time (6 am to 10 pm) and bandwidth of 1Mbps during night (10 pm to 6am). The Data transfer limit is 8GB. Along with this Airtel provides Free calling value worth Rs. 100 and Free talktime for calling any Airtel prepaid of Rs. 100. BSNL also provide a plan which is similar in terms of prices. This plan is called Home UL 750. Their is no limit on Data transfer. Its means you can download and upload unlimited data. BSNL along with this plan provides two email ids with a storing space of 5MB each,  thats compeletely useless.
The similarties between these two plans is the price (Rs. 749-Aitel and Rs. 750-BSNL) and Bandwidth (During day time is same but between 10pm to 6am Airtel provides bandwidth of 1Mbps). The plans are dissimilar in terms of Data transfer (8GB- Airtel and Unlimted – BSNL) and additional benefits (Rs. 200  Talktime -Airtel and 2 email Ids – BSNL) If you are ready to shell out Rs. 750 for your broadband then I would suggest that you should go for BSNL. Airtel's unlimited plan which comes with 256Kbps of Bandwidth is priced at Rs. 899.
If you want to go for connections which provide bandwidth of 512Kbps then Airtel Provides Explore 1099 and Turbo 1299 whereas BSNL  provides Home UL 1350. Its evident from the plan names that Airtel provides two plans which are priced at Rs. 1099 and 1299 while BSNL provides the same at Rs. 1350. The basic difference between Explore 1099 and Turbo 1299 is that of Bandwidth during night time. Turbo provides bandwidth of 1Mbps during night (10 pm to 6am). The other not that important difference between these two plans are that of additional benefits. Explore 1099 comes with Calling Value of Rs. 100 whereas Turbo 1299 provides the benefits worth Rs. 499 which includes calling value of Rs. 100, anti-virus worth Rs. 100, speed on demand worth Rs. 100 and unlimted gaming worth Rs. 199.  Against these two plans BSNL has nothing great to provide. HOME UL 1350 plan of BSNL is priced at Rs. 1350. If you want to go for any of these three plans then my suggestion is that you should go for Airtel Turbo 1299. This plan is cheaper than BSNL plan by Rs. 51 and provides great addtional benefits.
I would conclude by saying that If you are happy with 256Kbps and want unlimited data transfer then go for BSNL. And if you want bandwith of 512Kbps then go for Airtel.
PS : BSNL provides government employees a discount of 20% on these plan. So if you are a government employee do keep this in mind.
Do post your comments about what you think – which is better Airtel or BSNL?