Airtel to be title sponsor of Champions League T20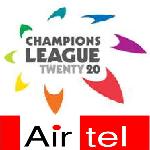 Airtel has signed up as the Title Sponsor of Champions League Twenty20 for a period of 5 years starting with the inaugural season in 2009. Airtel signed the deal today with ESPN STAR Sports, the commercial partners of Champions League T20. The first edition of the Champions League will be played in India starting October 08, 2009. A total 12 teams from 7 test playing nations will participate in the inaugural edition. The 16 day league will have 23 Twenty20 matches.
As part of this deal, Airtel will have rights to on ground title sponsorship for a period of 5 years.The tournament would be played across three venues – Bangalore, New Delhi and Hyderabad and will now be called Airtel Champions League Twenty20.
Commenting on this partnership, Shireesh pmghi, Director – Marketing, Bharti Airtel said – "We are delighted to announce our partnership with ESPN on the title sponsorship of Champions League Twenty 20 cricket tournament. We have seen a great synergy between our brand and cricket, since both cater and connect to a wide spectrum of consumer segments. This synergy combined with the success of the Twenty 20 format and the growing popularity of club cricket in India makes this a great opportunity for us to partner."
Speaking on the occasion, RC Venkateish, Managing Director, ESPN Software India Pvt Ltd, said, "We are delighted to have Airtel come on board as the title sponsor of the league.  It is our privilege to have one of the world's leading integrated telecom services providers join hands with us and I extend a hearty welcome on behalf of the entire ESPN STAR Sports family. We have always believed that this league will stand out as a premier international cricket property in the annual calendar of International Cricket and this landmark partnership vindicates that stand. I am confident that together we will create a wonderful experience for the cricket fan and help make this tournament even bigger in the days to come."