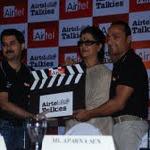 Bharti Airtel today announced the launch of 'Airtel Talkies' in Delhi. Airtel Talkies provides subscribers access to exclusive content from upcoming movie releases combining elements such as the movie's soundtrack and key dialogues. The service brings movie buffs original movie content, dialogues, storyline and song clips even before the release of the movie. The format of cinema on Airtel Talkies comprises of a 15-minute narrative where songs and dialogues are connected together by a 'Sutradhar' to provide a crisp yet complete experience of the movie. Airtel Talkies offers both upcoming new releases and all-time classic movies in 5 languages – Hindi, Tamil, Telugu, Kannada and Malayalam.

A subscriber can subscribe to Airtel Talkies by dialling 51010 and access it at :

Rs. 30 per month for 4 movies with 30 days validity

Rs 10  per week for 1 movie with 7 days validity

The customer can also forward and rewind the narrativer at any point of time so that he can listen to his favourite sections multiple times. The service works independent of minutes of usage.
On this occasion, Airtel launched 'The Japanese Wife'  by Aparna Sen. Content from 'The Japanese Wife' is now available on Airtel Talkies (Dial 51010 and then give the movie code 41).  The film features the team of Mr & Mrs Iyer – director Aparna Sen and actor Rahul Bose. It deals with a love story of pen-friends who live in different countries and fall in love, eventually getting married through letters without having ever met.