Airtel introduces "Special 5" Add-on Pack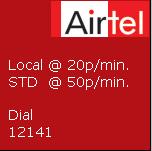 Airtel has announced a new add-on feature called Special 5 for all its 100 million customers. The 'Special 5' feature empowers Airtel customers to select any five Airtel mobile numbers and stay in touch with them at low rates of 20 paise per minute on local calls and 50 paise per minute on STD calls. This feature is available as an add-on to the customer's current tariff plans in prepaid.

The 'Special 5' feature gives the customer the flexibility to choose any five numbers of his/her choice across both local and STD.Hence a customer could have three of his local friends and two of his friends outside his state as his Special 5. The customer needs to register the five numbers and enjoy the benefits over and above the current tariff benefits enjoyed. In post paid, it will be available as exclusive 'Special 5' plan.

Prepaid customers can enjoy this benefit by dialling 12141 and registering their special 5 numbers online through the automated IVR. Post paid customers can send a message 'FIVE' to 121 and register on Special 5 plan.

There would be a daily rental component for each number (Re 1 for STD and 50 paise for local Airtel to Airtel mobiles).