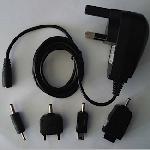 I've come across custom made chargers similar to the picture in most of my friend's place where around 3 or 4 guys stay in an apartment. What's interesting is that even if they buy a new phone, they are not using the original charger since its easy to use this custom made multiple charger! They feel its painful to search for multiple chargers when they are in hurry! They want to find a charger where they just need to plug it and charge not to search for their charger! It just cost Rs. 75! ($1.5)

Even though global mobile sales dropped by 9.4 percent for Q1, still 269 million units have been sold globally.It's a HUGE number. Most of the time, users will upgrade their mobile with the same brand (Nokia to nokia) they might not need an additional charger. 

When universal charger becomes mandatory, its easy for both consumers and manufactures. For consumers it's a convenient way to be connected without worrying on the battery back up and for manufacturers it's a cost saving exercise and reduction in carbon emissions. The GSMA calculates a reduction in greenhouse gases from manufacturing and transporting replacement chargers of 13.6 to 21.8 million tons a year. Cast-off chargers currently generate more than 51,000 tons of waste a year!

So far, 17 companies have agreed to the pact including 3 Group, AT&T, KTF, LG, mobilkom austria, Motorola, Nokia, Orange, Qualcomm, Samsung, Sony Ericsson, Telecom Italia, Telefonica, Telenor, Telstra, T-Mobile and Vodafone.