Airtel launches Family Tunes on Fixed Line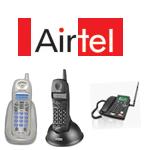 Airtel today announced the launch of India's first ever Family Tunes service for its Fixed Line customers across the country.  Airtel's Family Tunes will provide its Fixed Line customers another Call Management service by offering a pre-recorded Welcome Message customized to the customer's individual Family Name to greet callers instead of the conventional tone. A library of more than 1000 most common Indian Family Names will be available for customers to choose from.

Announcing this, Mr. Vikas Singh, Chief Marketing Officer–Telemedia Services, Bharti Airtel said, "For most homes today in the country, the Fixed Line remains irreplaceable as the family phone, distinct from the personal mobile phones of each member of the family. Having a Welcome Message customized with their own Family Name will help our customers to enhance the calling experience and make the most of their home phone."

Airtel Fixed Line customers may access the Family Tunes by dialing 5432151 on their Airtel Fixed Line. Customers will be charged a one-time Download Fee of Rs. 15 for a Family Tune and a recurring Monthly Hello Tune Subscription fee Service Fee of Rs. 30 per month, which would be added to the customer's monthly bill.