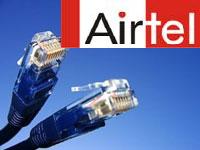 Airtel has launched 16 Mbps wireline broadband. Powered by Airtel's 'carrier ethernet network', the service will be initially available in New Delhi, Chennai and Bangalore and soon rolled out in Hyderabad, Pune, Mumbai and Kolkata.
Downloading movies, music or data from the Internet has just got easier.
It is now possible to download a 4GB file, such as a high-definition movie bought online, within 30 minutes using a 16 mega bits per second (Mbps) broadband launched by Airtel. Reliance Communication (R-Com) has also launched its wireless high-speed Internet in Calcutta, which will offer up to 3.1 Mbps downlink speed and a separate uplink speed of up to 1.8 Mbps.

Airtel's offer comes with a fixed line connection and costs Rs 2,999 per month (data transfer limit 20GB) and Rs 4,999 (50GB).
In India, the average broadband speed is 256 Kbps, while in countries such as France and Korea, this is in excess of 16 Mbps. Normally, a 256 kilo bits per second (Kbps) Internet connection takes over 12 hours to download a 4GB movie. Till date the highest available broadband speed in India was 8 Mbps.
Starting from 256 Kbps, Bharat Sanchar Nigam offers bandwidth up to 2 Mbps.Tata Indicom offers broadband speed of up to 4 Mbps in some cases, starting from 256 Kbps. Reliance Communication (R-Com) aims to treble its Internet user base this financial year from the present 20,000 with its faster broadband service. "We are targeting laptop users," a Reliance spokesperson said. Other broadband service providers include MTNL (up to 2 Mbps) and Sify (256 Kbps to 512 Kbps)."Each service provider will have to increase the bandwidth they provide currently," a telecom analyst said.