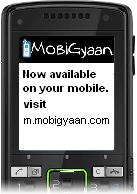 MobiGyaan.com goes mobile. Now you will be able to access MobiGyaan on your wap enabled mobiles phones. Mobile version of MobiGyaan.com is availabe at http://m.mobigyaan.com and http://wap.mobigyaan.com. Both the mobile versions are different from each other. You can visit the one you like more.
Along with this we have introduced few more new feature.
– New Comment System
– Podcast : Now you will able listen all articles at mobigyaan.com. Just download the audio files of the articles you like. Podcast is available under "Useful Stuff"
– Presently you can follow MobiGyaan through Newsletters and Free SMS Alerts. Now you can follow MobiGyaan at twitter also. http://twitter.com/mobigyaan
If you face any problem in accessing mobile version then please contact us
We will love to get your feedback about all these new features.