Airtel has announced that their mobile customers in India will now potentially be able to access Twitter on their mobile phones for free till 1st March 2012. This limited period Twitter offer by Airtel and is a first-of-its-kind initiative in India which allows customers to enjoy free access to Twitter through web browsers by visiting http://mobile.twitter.com.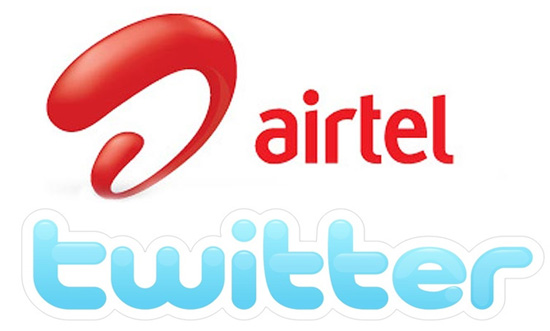 Airtel users can sign up without activating GPRS for Twitter or subscribe to SMS updates of specific users (via short code 53000) on their mobile phones free for the period of this offer.

Ways to enjoy free Twitter access on Airtel till 1st March 2012
Twitter mobile website: Visit mobile.twitter.com (with or without GPRS subscription), follow simple sign up process by entering your mobile number and start using!

Create new account on Twitter on SMS: SMS 'START'  to 53000, upon receiving reply – SMS 'SIGNUP' to 53000. Next, type a username (unique and less than 15 characters) and send that to 53000. Once Twitter approves your username, you will get a confirmation message, prompting you to SMS a chosen password to 53000. On completion of this process, your Twitter account will be created. Sign up is only required if a user wants to tweet

Follow specific Twitter users on SMS: To receive updates from a specific user, SMS 'Follow <username>' to 53000. Users can follow others on Twitter on SMS even without having a Twitter account of their own
For more, visit here.