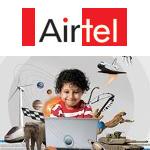 Bharti Airtel has entered into an exclusive partnership with Encyclopaedia Britannica. The partnership will allow Bharti Airtel to offer a two year free subscription, worth Rs.6575 to Britannica online (www.britannica.com, www.eb.com) for all its Broadband users.

K. Srinivas Joint President,Telemedia Services, Bharti Airtel, said "Our partnership with Encyclopaedia Britannica is part of our larger commitment to offer an enhanced broadband experience to our customers, especially to children and the young adults. Encyclopaedia Britannica has created a huge body of content for Indian audiences in art, culture, cinema, education across various mediums and is in line with our commitment of partnering the world's best for offering innovative content for customers."

Jorge Cauz President Encyclopaedia Britannica, Inc. said, "Britannica Online contains rich information along with rich multimedia, and that makes it an excellent match for Bharti Airtel's broadband service. India is one of the largest English speaking markets and is an important market to EB's expansion plans in the Asia Pacific. We believe the Indian broadband users will enjoy EB's rich, up-to-date and accurate information and we welcome their active participation as part of our growing community. As broadband become more widely available in India, we hope that more families can enjoy EB's various online services and share the knowledge we are committed to provide more than 240 years. This agreement is an important step in that direction."

This offering is more useful for school going students. The other category of consumers is more interested in discounts, free speed upgrades etc. Will you get a new Airtel Broadband connection to get 2 year free subscription to Britannica Online?