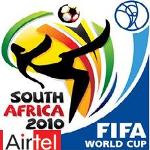 Bharti Airtel has announced various offerings for its subscribers gearing up for Football World Cup 2010.
Airtel's offerings include Services like football match alerts, football quiz, LIVE scores, latest news, gossip, FIFA anthem, music & video ringtones, follow your favourite player, static and animated wallpapers, animated themes, games etc.

Here are the details
FOOTBALL MATCH-DAY ALERT
For Activation: Dial *321*472# @ Rs 3 per match day
HALL OF FAME
It allows you to get to know top 20 footballers in the world on your phone daily – trivia, records, stats, claim to fame, controversies. Top 20 footballers being showcased are: Lionel Messi.Cristiano Ronaldo, Ronaldinho, KAKA, David Beckham, Dider Drogba, Arjen Robben, Thierry Henry, Zlatan Ibrahimvoc, Diego Milto-, Pelé, Maradona, Platini, Marco Van Basten, Fernando Torres, Ronaldo (Brazil), Franz Beckenbauer, Samuel Eto'o, David Villa, Carlos Tevez
For Activation: SUB HOF to 54321 @Rs 1 per day
AIRTEL GO! GO! GOAL CONTEST
It is a SMS based quiz contest on football. If you know all about the teams , players , coaches etc then answer the questions correctly and get a chance to fly to the country you support during the world cup, There will be weekly winners who will stand a chance to win Nokia phones while daily winners can walk away with football merchandise!.
To participate, SMS C to 543210 ( post subscription to Football Alerts)
Airtel has also created a special WAP portal for the Football World Cup 2010 called Airtel Football Zone. Customers will get all the news, LIVE scores, stadium details, statistics, line-ups, gossip and stories on footballers and much more. Through the above service, customers will also be able to access video clips on player quotes , fan reactions etc!
For more details visit http://airtel.in/football