The popular Paytm app has now become the best digital source of payment in India. You might have heard of Paytm for anything like getting a cash back on recharges, or some heavy discount on their online store, or for its easy mode of payments. Many people have started using Paytm app for sending and receiving payments online, recharging mobile and DTH. Moreover, Paytm has established itself as an e-commerce gateway to buy and sell products online. If you aren't sure what is Paytm and what's it used for, we have explained it here, read on.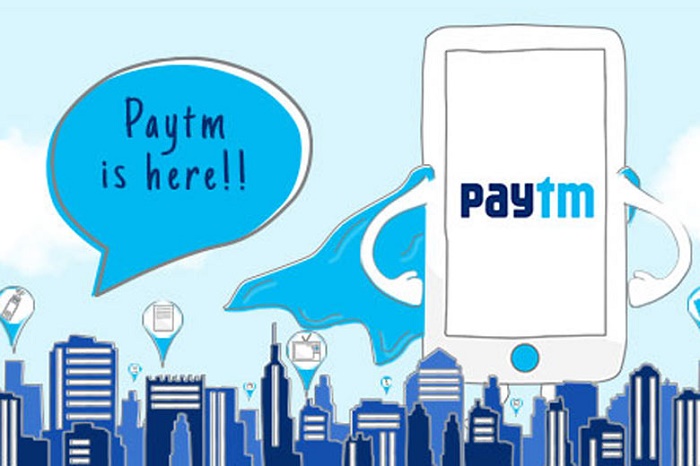 What is Paytm and Paytm Wallet
Paytm is a mobile e-commerce company which has gained a quick success in recent years. At first, the company was started as providing mobile recharges and utility bill payments online, now it's a whole marketplace for buying and selling products like Flipkart and Amazon.
Paytm has a Wallet that acts as a virtual e-wallet where you can securely store all your money online. The Paytm Wallet is secured with 128-bit encryption technology. Instead of using your credit card or debit card details online, you simply use the money from Paytm Wallet making it much easier for you to make online purchases without needing credit cards or net banking.
In addition, Paytm Wallet can be used to transfer money easily to each other. It can be done simply with a recipient's mobile number or using a QR code. You can add money to your Paytm Wallet up to ₹10,000 a month. However, due to the recent demonetization, RBI has increased the limit to ₹20,000 temporarily. The limit can be increased up to ₹1,00,000 after you verify with a KYC (Know Your Customer) document.
Where to get the Paytm App
Usually, you can find it at your respective mobile app store. For iPhones, it is on iTunes App store and for Android, you can search it on Google Play Store. Register an account using your mobile number. It's easy.
Paytm App download links: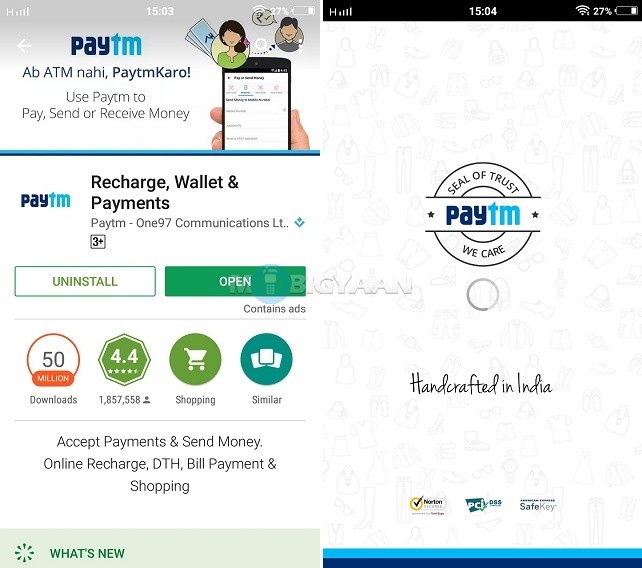 How to Add Money to Paytm Wallet
To add money to Paytm, simply tap the 'Add Money' option to your Paytm Wallet.
Enter the amount you want to add to the wallet and on 'Add Money'. In case, you are asked to sign in, log into your account and continue.
Add the money from your credit card, debit card or net banking. You will see the mode of payments on the screen already.
Once the transaction completes, you will receive the amount in the wallet instantly.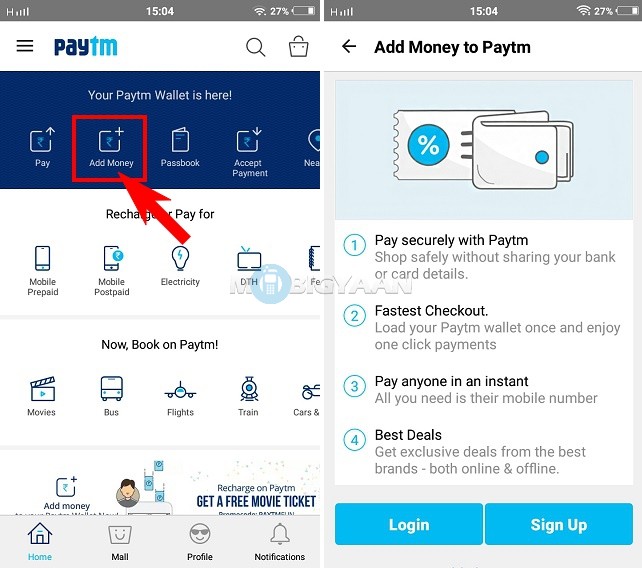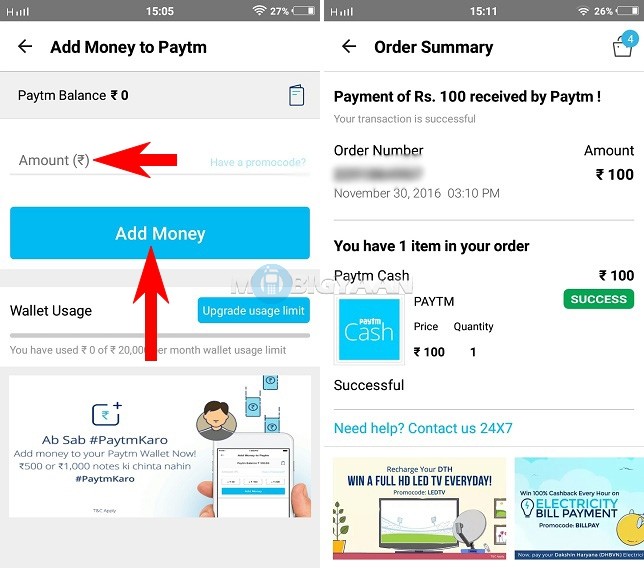 How to Send Money via Paytm Wallet using Mobile Number
Use Paytm to send money to anyone in just a few simple steps.
Tap the Pay button on top-left, swipe to the left or tap the Mobile No. tab.
Enter the mobile number of the person you want to send money to.
Tap Send and you will receive the confirmation. The beneficiary will receive an SMS on their mobile number.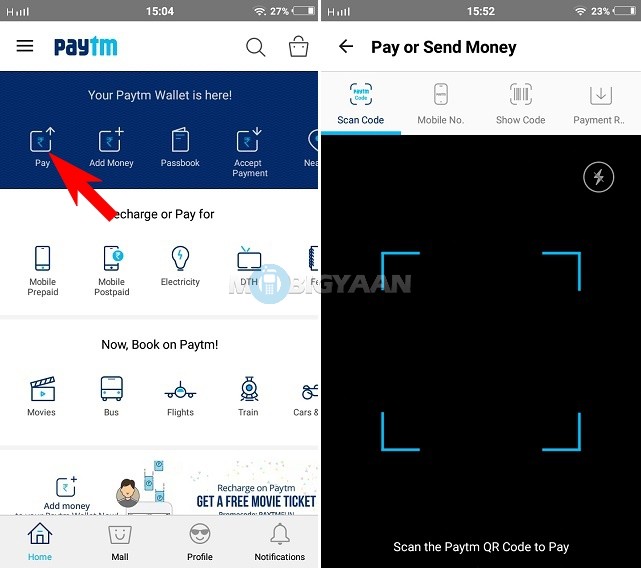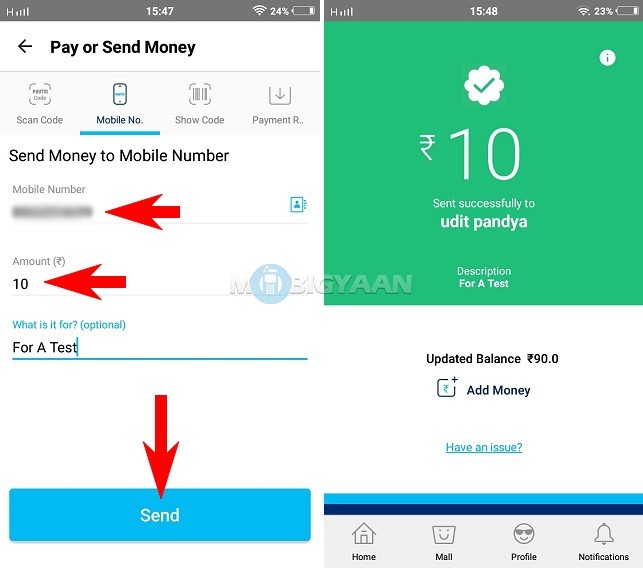 How to Send or Pay Money via Paytm Wallet using QR Code
Now you can transfer money to any merchant using their QR code. Instead of paying hard cash to the merchants, go cashless and pay hassle-free with Paytm Wallet. Scan the QR code of the merchant who shares it. The merchants can be anyone from a local store, petrol pumps, restaurants, cab services and others.
To send money using QR code, tap Pay, and bring your mobile device to the QR Code and scan it with the camera.
Enter the amount to be paid and confirm.
You will receive a message 'Paid Successfully' to the merchant.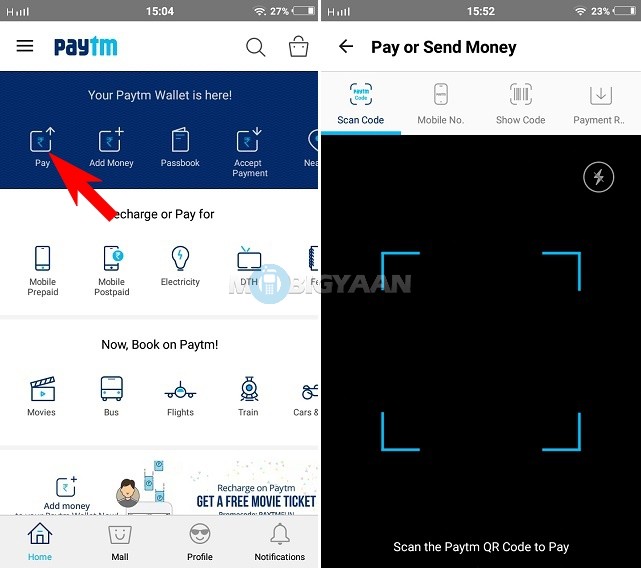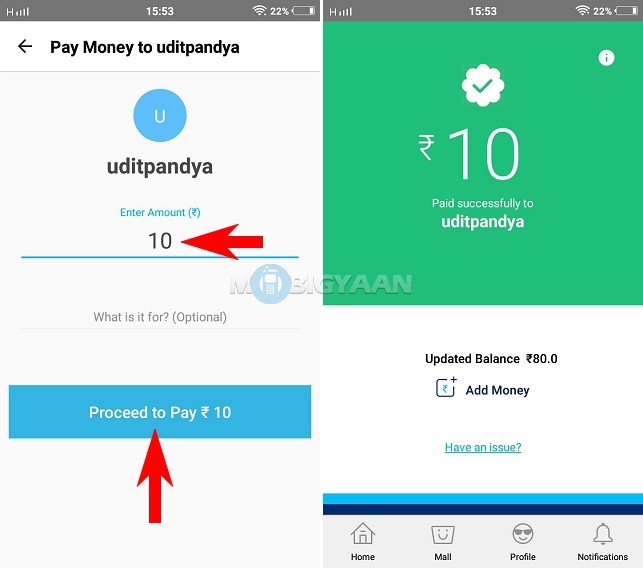 How to get Paytm QR Code for receiving payments
On Paytm app, tap the 'Accept Payment' option on the top and your unique QR code will be shown. The QR code can be printed on a paper to receive the payments, much easier if you are a merchant selling stuff.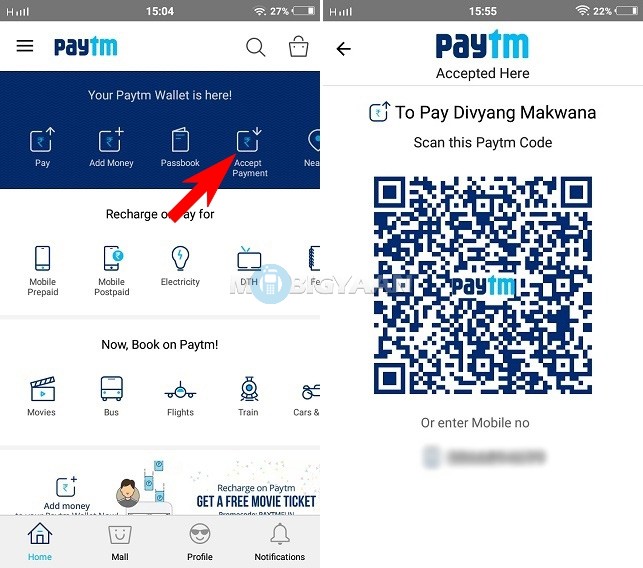 Here are the different ways users can use Paytm in their day to day life
Paytm app is best for those who find it difficult to make online payments. It helps to pay utility bills, recharge your mobile, DTH connections, or send money to friends easily, or even pay for the products or services you purchase with cash. For example paying a restaurant bill using Paytm, or for a cab. Paytm is also accepted at certain petrol pumps, you just need to scan QR code and make payment.
Gas Station or Petrol Pump
Local Stores or Grocery Stores
Cab Services and Rickshaws
How to return money to your bank account
What happens when you have money left in your Paytm Wallet. It can be transferred straight to your bank account. Yes, Paytm also returns the money that you have added to your wallet. To return money to your bank account, follow the steps.
Tap Passbook on the Paytm app, tap Send Money to bank and Transfer.
Enter the amount you want to transfer.
Enter your bank details like account number, your name associated with it, and IFSC code.
Hit send to transfer the money.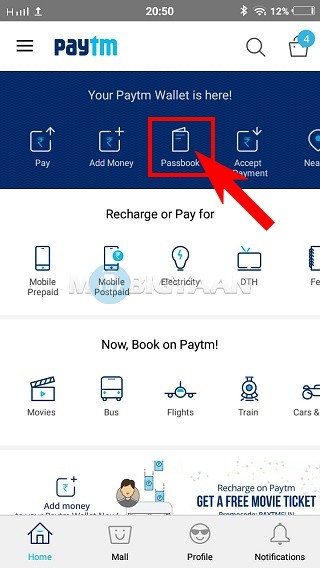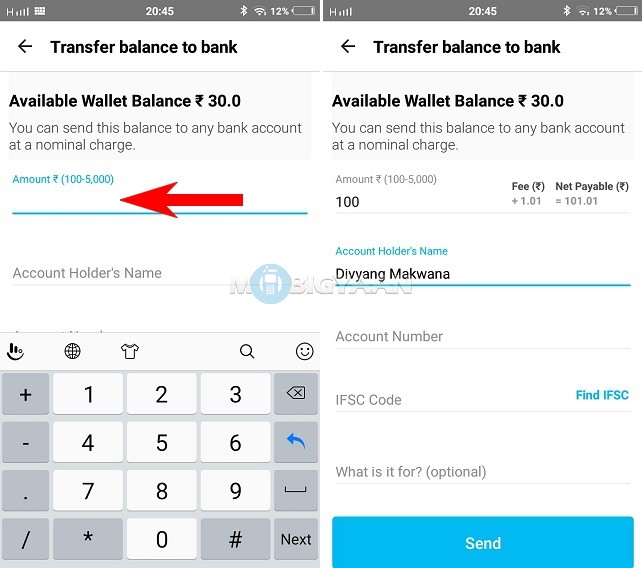 The minimum amount you can transfer is ₹100 and maximum amount is ₹5,000 per transaction. You can transfer up to ₹25,000 in a month. Merchants can transfer up to ₹50,000 (without KYC) and up to ₹1,00,000 (with KYC). Paytm takes a convenience fee of 1% for KYC customers and 4% for non-KYC customers.
Generally, it takes about 3 days to initiate a transfer to the bank if you are a new Paytm user and you haven't KYC process done. You will receive the money in 2 to 7 days depending on your bank.
Do ask us if you need any help with Paytm Wallet. You can comment it below. Share this tutorial with your friends using the given social buttons. We also have more tutorials, they can be found here right at our How-To Guides.