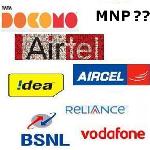 Ever Since, it was announced that Mobile Number Portability to be launched, many mobile users are curious to know about it. After too many delays MNP is now a reality is available in certain telecom circles and will be available in remaining telecom circles by 20th January 2011. We have come up with a set of question related to MNP. We hope that the following Questions and Answers will solve most of your MNP related doubts.
What is Mobile Number Portability?
Mobile Number Portability is the facility which allows a subscriber of a mobile phone service to retain his mobile telephone number when he/she moves –
from one mobile telephone service provider to another, irrespective of the mobile technology or

from one mobile technology to another of the same mobile telephone service provider, within such limits as may be permitted by the licensor. Presently, Number portability is permitted only within LSA and not across LSAs.
That means subscriber can change operator say Airtel to BSNL, or technology – GSM to CDMA or vice versa, or both say Reliance CDMA to BSNL GSM,while retaining his mobile number
What is porting?
Porting is the act of switching to a new Mobile Service Provider within the same LSA without changing your mobile number. However, only active mobile numbers can port. Thus, do not terminate your current line before porting.
Who can port?
Any eligible Prepaid and Postpaid (GSM/CDMA) mobile users can port. Eligibility conditions for porting are as follows :
There are no outstanding payments due from the subscriber by way of pending bill or bills, as the case may be, issue as per normal billing cycle but before the date of application of porting.

The porting request has been made after the expiry of a period of 90 days from the date of activation of a new connection or from last porting.

No request for change of ownership of the mobile number is under process.

The mobile number sought to be ported is not sub-judice.

Porting of the concerned mobile number has not been prohibited by any Court of Law.

Subscriber has applied for porting within LSA

The unique porting code mentioned in the porting request matches with the number unique porting code allocated by the Donor Operator for the mobile number sought to be ported.

The subscriber has complied with exit clause for the present connection.
Can I port my number I am on a CDMA service?
Yes, any CDMA/ GSM user can port to any technology with the new Mobile Service Provider, provided he or she meet eligibility conditions mentioned above.
What do you need to consider carefully before you port?
Check if you meet the eligibility conditions.

If you have any overdue bills or have existing contracts with your current Mobile Service Provider, the current Mobile Service Provider wil reject your porting request forwarded by the new Mobile Service Provider. In such a case, you will not get refund of the porting fees which you paid. So ensure that you do not have any bills overdue an you fulfill the exit clause with the existing service provider.

If you are a prepaid user, then all your existing credit (talk value and validity) will expire upon porting and not to be carried to the new Mobile Service Provider.
How long does it take to port to the new Mobile Service Provider?
The porting process will take at least 7 days in all LSAs except North East, Assam and J&K, in these 3 LSAs porting will take more time.
Can I port my number more than once?
Yes, but you cannot make more than one porting request at a time to different Mobile Service Providers. Also you should fulfill all the eligibility conditions including at least 90 days subscription with your current Mobile Service Provider.
Can I decide the date and time at which my number is ported?
No, you cannot dictate when your number should be ported. It is all automated and upon approval of porting request, the new Mobile Service Provider will inform you the tentative date and time of porting.
Before porting, I have to settle all necessary payments with the current provider. However, there will be a period between the final payment day and the porting day. To which provider do I have to pay for the transactions made during the time gap?
You will have to pay your previous Mobile Service Provider, and ensure to settle your account with the old service provider. While applying for porting, you need to clear all the bills issued to you till that time. All bills issued subsequent to the porting application also need to be cleared by their due date, if you will fail to do so, then your connection is liable to be disconnected by the new service provider.
Can I cancel my port request after applying for porting?
Yes, you may cancel your port request with your new Mobile Service Provider within 24 hours of making request.
Do I get a new SIM card when I change my Mobile Service Provider?
Yes, the new Mobile Service Provider will give you a new SIM Card.
Do I need to cancel my existing services before I port to a new Mobile Service Provider?
No, you do not have to cancel your existing services. Your existing services with the current Mobile Service Provider will automatically be terminated once you have successfully ported to the new Mobile Service Provider.
Will I enjoy the same Services during the porting process?
Yes, you will enjoy same services, except for International Roaming Services, which your current Mobile Service Provider may suspend upon your porting request.
What should I do, If I have taken a connection under 'Handset Bundle' Scheme?
You have 2 options
Option 1 : To continue with your existing Mobile Service Provider until your contract expires, then only request for port.
Option 2 : Cancel your existing contract after complying with the exit clause in the contract for its premature termination and then apply porting.
To know how to switch to a different Mobile Operator click here.
If you feel, that we have not covered any question above, please feel free to contact us and let us know.
Thanks Bandhan Preet Singh for the help.