While not many used the Samsung AllShare Play app, the company decided to present the app with a new avatar and a new name even. The redesigned app is now known as the Samsung Link and packs in a lot of required functionalities.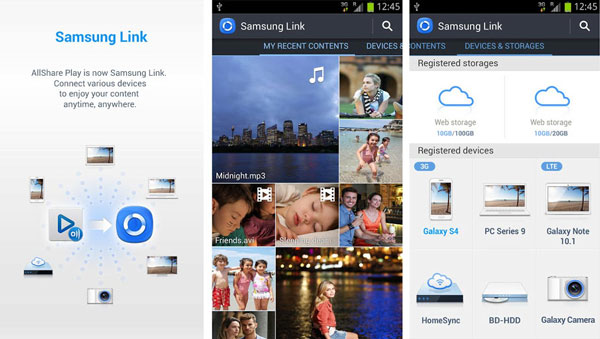 The Samsung Link is a modified (upgraded) version of the AllShare Play app with a brand new interface and some new features. The app enables the user to access your pictures, videos, and documents across various devices using your Samsung account. It also allows to access and play content saved on other devices over a wireless access point as well as over the internet.
Using the web service of Samsung Link at link.samsung.com on your PC, you can remotely access and even manage your device using your Samsung account. The multimedia content can be automatically transferred to your PC or registered storage service. This app can also be used to connect to your Samsung TV to stream content directly.
While some of the features are currently available only for the Galaxy S4, Galaxy S3, Galaxy Note 2 and Galaxy Camera the same would be rolled out to all Samsung devices soon. To upgrade your AllShare Play app to the Samsung Link visit the Google Play Store.