While everyone including the developer community were expecting the next Android version at the Google I/O Developer Conference, they were forced to go home disappointed with no such announcement but then we heard rumours of a white Nexus running on the new OS. Now the new OS has been spotted in Thailand.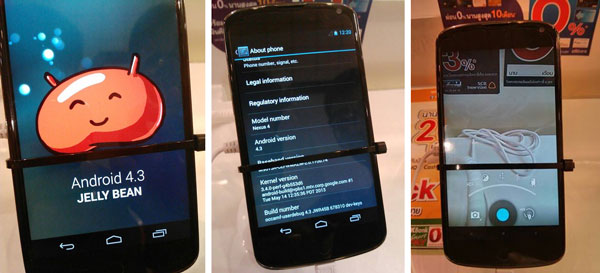 Images of a particular Nexus 4 running what seems to be the next version of the Android OS was seen at the Thailand Mobile Expo. The device clearly shows the Android v4.3 Jelly Bean in the image. As per the details from the images, the build number of the device is JWR45B, which is a Jelly Bean version.
While not much details were available about the new Android version, a picture shows a new camera menu which has buttons appearing around the shutter button. While there is no comments from Google yet, rumours state that a white Nexus running the Android v4.3 would be announced on June 10.