Amazon Germany puts the Samsung Galaxy S III for pre-order
While we can't get enough of the rumours regarding the Samsung Galaxy S III, here's something from Germany. Amazon, on their German website, is apparently selling the Galaxy S III on pre-order.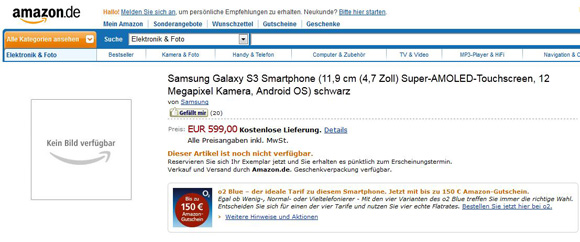 Of course there isn't any image of the device given, but it says that the smartphone will have a 4.7-inch Super AMOLED display, 12MP autofocus camera with LED flash, Android 4.0 OS, 16GB internal memory with microSD card slot support up to 32GB and the cost has been quoted as €599.

So is Amazon really going to provide its customers with the new S III? We personally think that this could be a publicity stunt by Amazon, considering that everyday there some or the other new rumour about the upcoming Galaxy device. May be Amazon wants a little attention and found the rumours a perfect way to gain it.